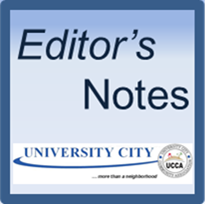 From Jemma Samala, Newsletter Editor:
Transition. The one word that sums up this month for me. My younger son starting driving and my parents moved out of UC. And the big transition is my older son leaving for college. At least he's still in California, but he's a little too far away to come home on weekends to do his laundry. Although who knows, he might since I refused to buy the college's laundry service plan. Shouldn't Laundry 101 be the first thing they learn?

I can't share my feelings yet, since as of this writing he hasn't left. But I can share the reaction of his group of friends when the first one left on a plane to Oregon. More than a dozen of his friends and us moms gathered at the airport. Our farewell was extended due to numerous flight delays, but we spent the time reminiscing, eating in the food court, and playing cards. As the time of departure drew near, we slowly walked to the gate, much like a funeral procession. The boys were sad not only that their friend was leaving, but knowing life for all of them was changing. My son was the first to shed tears. They have grown up together since Kindergarten, in the comfort of this UC community. And us moms have grown up together too, having the strong bonds we developed through elementary school volunteering, sporting events, and the oh-so-tough teenage high school years. But as the moms soon shed those tears goodbye, we have comfort in knowing that we will transition together from packing lunches to sending care packages.

So for those of you with the wee youngsters, when they say enjoy those early years, seriously savor each moment. The back-to-school shopping days are happy ones because when you shop to start college, add a few thousands to your budget.

And on a really serious note, I can't wait to transition to the fall weather. As I write this, I am comfortably laying in a beautiful corner air-conditioned room at the Embassy Suites by Westfield UTC, with construction cranes in the background. Because with no air conditioning, like many of us in UC, there was no way I could work on the newsletter. Can I write off the expense?
UCCA thanks editor Jemma Samala for all she does for University City and UCCA. If you have a story to share for possible publication on UCCA's newsfeed or print newsletter, please use the Contact Us link https://www.universitycitynews.org/contact-us-or-volunteer-in-uc/ to upload your story and photo.
Volunteers are delivering the September UCCA University City newsletter to south UC residences and businesses this weekend. The newsletter is also available at UC libraries and recreation centers; and online at University City News on the Newsletter Archives Page https://www.universitycitynews.org/ucca-newsletter-archives/.
---
What do Facebook, Twitter, Nextdoor, ImproveUC and UCCA have in common? They are all ways neighbors can connect with neighbors and the University City community. Create a post, start a conversation, share the news, organize an event, keep in touch, take a look: