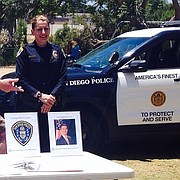 UCCA meeting reminder from Barbara Gellman, UC's Neighborhood Watch Coordinator:
The next UC Community Association meeting is Wednesday, September 9 from 6 – 7:30 PM at the Library on Governor Drive.

Many residents have expressed concern about calling the police non-emergency number and being put on hold. Yes, there is a shortage of police dispatchers. To address your concerns and help you be more effective as a caller to the non-emergency number 619-531-2000, UCCA has scheduled a special 15 minute presentation from Officer Holly Tafoya and police dispatcher Carl Radar.

The meeting begins at 6 PM with updates from elected and other community leaders. All are welcome. Parking and seating at the library is limited; we expect a large crowd so come early.
---
What do Facebook, Twitter, Nextdoor, ImproveUC and UCCA have in common? They are all ways neighbors can connect with neighbors and the University City community. Create a post, start a conversation, share the news, organize an event, keep in touch, take a look: