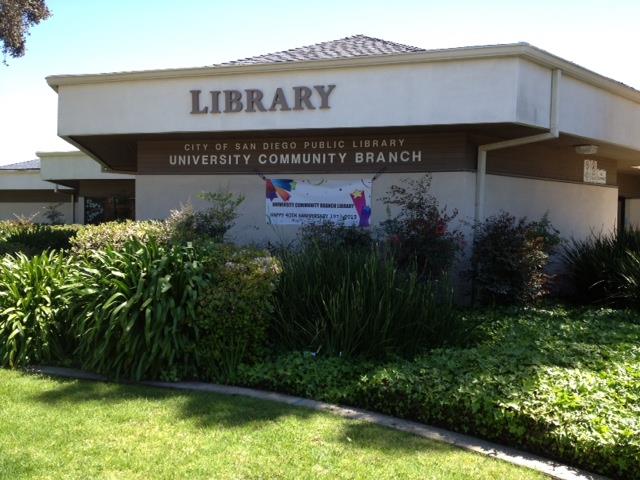 Libraries Closed January 1 and January 19. All San Diego Public Library locations will be closed on Friday, January 1 to observe New Year's Day and Tuesday, January 19 to observe Martin Luther King Day. 
---
Courtesy of Larry Hoeckelmann Jr., Youth Services Librarian, San Diego Public Library University Community Branch, 4155 Governor Dr., San Diego CA 92122 – 858-552-1655
Events for Adults and Seniors
Qi Gong – Every Monday @ 9:30 – 11:30 AM. Qi Gong (Chi Gong) is a simple preventative health method of relaxing and harmonizing the body. These gentle exercises are suitable for any age and health condition.

Zumba for Special Needs and Beginners – Every Monday @ 1:00 – 2:00 PM. Led by Lis Garces a licensed Zumba® instructor since 2007. Lis is the Founder and Director of the Juan Carlos Organization which provides dance therapy exercise for the Special Needs Community.

Adult Yoga – Every Tuesday @ 4:00 – 5:00 PM. Gentle exercises to aid flexibility and improve concentration. Bring your own yoga mat or towel.

Chair Sit Yoga – Tuesday, December 1 & 15, January 19 @ 2:00 – 3:00 PM. Get fit where you sit! Chair yoga is a gentle form of yoga that is practiced sitting on a chair or standing using a chair for support.

♫ ♫ ♫ Accordion Club – Saturday, December 12, January 9 & 23 @ 9:30 AM. – 12:30 PM. All are welcome! Second Saturday of each month.

Peripheral Neuropathy Lecture – Tuesday, December 8, January 12 @ 1:00 – 3:00 PM. Learn how to end neuropathy pain. Limited space, please call (619)275-3683 to RSVP. Presented by: The Foundation for Wellness Professionals, a nonprofit.

Scrabble Club – Tuesday, December 22, January 26 @ 5:00 – 7:45 PM. All are welcome! Bring your own board and meet new friends!

♫ ♫ ♫ Concert: Leah Panos (Harp) – Wednesday, December 2 @ 6:30 – 7:30 PM. Learn about and listen to the soothing sounds of the harp played by Leah Panos. Leah earned her Bachelor's Degree in Music Performance at San Diego State University where she received the Outstanding Graduate Award in 2006, and continues to serve as an Artist-in-Residence at SDSU.

Oasis: Pearl Harbor: Day of Infamy, Day of Sacrifice – Wednesday, December 17 @ 2:00 – 4:00 PM. Join Historian, Writer and Artist, Mark Carlson talk about one of America's darkest defeats, the 1941 attack on Pearl Harbor. But were the Japanese able to attack with such success only because of their cunning and planning? Or was there American involvement in the attack? Were FDR, the Chief of Naval Operations and Churchill also responsible? Were the 3,000 men and women killed that day betrayed by a government who wanted the U.S. to enter the war? The controversy has been fueled over the last 60 years and only now is another truth being revealed.

♫ ♫ ♫ Concert: Dueling Divas of Oboe – Wednesday, January 6 @ 6:30 – 7:30 PM. Enjoy the musical stylings of the Dueling Divas of Oboe, Dawn Roberts and Juliana Gaona.

♫ ♫ ♫ Concert: Mesa Classical Guitar Ensemble – Tuesday, January 12 @ 6:30 – 7:30 PM. Join us for a selection of popular classics played by guitars.

Oasis: Sleep, Light, and Your Health – Wednesday, January 21 @ 2:00 – 3:30 PM. Modern life has distorted our ancient sleep patterns. Light plays a significant role in how our bodies adjust, adapt, survive, and thrive. Join us for a fascinating discussion about sleep, and the problems that can come from a lack of thereof.

UC Book Club – Wednesday, January 27 @ 2:00 – 3:00 PM. The Book Club will be discussing, Light Between Oceans. After four harrowing years on the Western Front, Tom Sherbourne returns to Australia and takes a job as the lighthouse keeper on Janus Rock, nearly half a day's journey from the coast. After a few years on the island with his wife a boat has washed up onshore carrying a dead man and a living baby.
Events for Children
Preschool StoryTime for Kids – Every Thursday @ 10:30 – 11:30 AM. Join us for stories, crafts, finger plays and songs.

Makerspace Craft Station – All week long (Monday – Saturday). A craft station is available in the Children's Area during library hours with a different craft each week.

Little Catbird – Wednesday, December 16 @ 2:00 – 3:00 PM. Please join us for an interactive show with Little Catbird Music. Children will love a sing-along music show with dancing and puppets. A fun time to be had by all!

Challenge Island – Wednesday, January 20 @ 2:00 PM. Kids will tackle the challenges on the action-packed Rocket Heights destination where they will build their tribe's launcher and rocket and attempt to launch their Mega Rocket Ride way up high. Space is limited; please call (858) 552-1655 to RSVP.
Events for Tweens/Teens
Go Gaming – Every Tuesday @ 2:30 – 4:30 PM. Learn the ancient mind game of Go from the President of the San Diego Chapter of the American Go Association.

Kendama Club – Every Wednesday @ 1:30 – 2:30 PM. Test your skills against others learn new tricks and just have FUN!!!

Video Game Fridays – Every Friday @ 3:00 – 4:00 PM. Wii gaming with your friends, Get your game on!

Teen Writing Club – Wednesday, December 9 @ 3:00 – 4:00 PM. Need help writing, finishing the Friends of the Library essay or any other essay? The San Diego Writers/Editors Guild will be providing help to all those writer's out there.

Teen Writing Club – Wednesday, January 13 @ 3:00 – 4:00 PM. In this month's Teen Writing Club we will be talking about techniques for writing tantalizing tales.
Related posts: https://www.universitycitynews.org/category/library/
---
Note: If you have a news item to share, please submit your story through UCCA's Contact Us link at https://www.universitycitynews.org/contact-us-or-volunteer-in-uc/.  
Review article guidelines at https://www.universitycitynews.org/ucca-newsletter-archives/
What do Facebook, Twitter, Nextdoor, ImproveUC and UCCA have in common? They are all ways neighbors can connect with neighbors and the University City community. Create a post, start a conversation, share the news, organize an event, keep in touch, take a look: