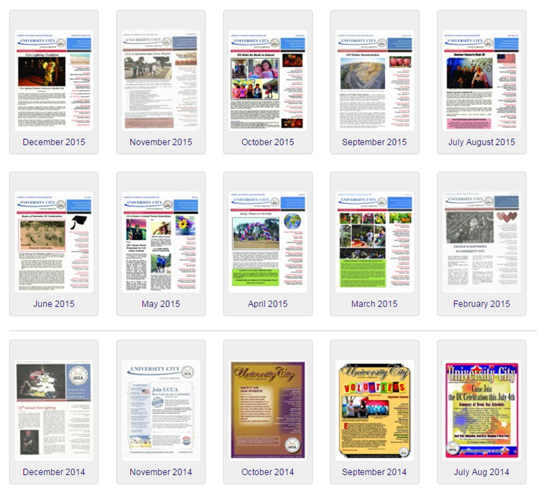 It's a newsletter gallery! Now you can view (and read) University City history as told through UCCA's newsletters in a convenient, user-friendly gallery format.
The UCCA newsletter has been in continuous print since May 2002; the online newsfeed has been updated since May 2015.
UCCA's look may have changed over the years as the newsletter has grown from 3 pages to 20; and from two color to full color. But, the overall theme has remained constant: University City, more than a neighborhood. 
UCCA (and countless volunteers) produces and distributes a monthly newsletter to households and many businesses in the south UC community – 10 issues per year – 6,000 copies per issue!
Visit https://www.universitycitynews.org/ucca-newsletter-archives/ and click on the cover image to view the entire issue in a PDF format.
For advertising rates and article submission guidelines, visit the newsletter archives page.
If you would like to contribute to the University City community, contact us at https://www.universitycitynews.org/contact-us-or-volunteer-in-uc/
Join UCCA today at https://www.universitycitynews.org/join-ucca-today/