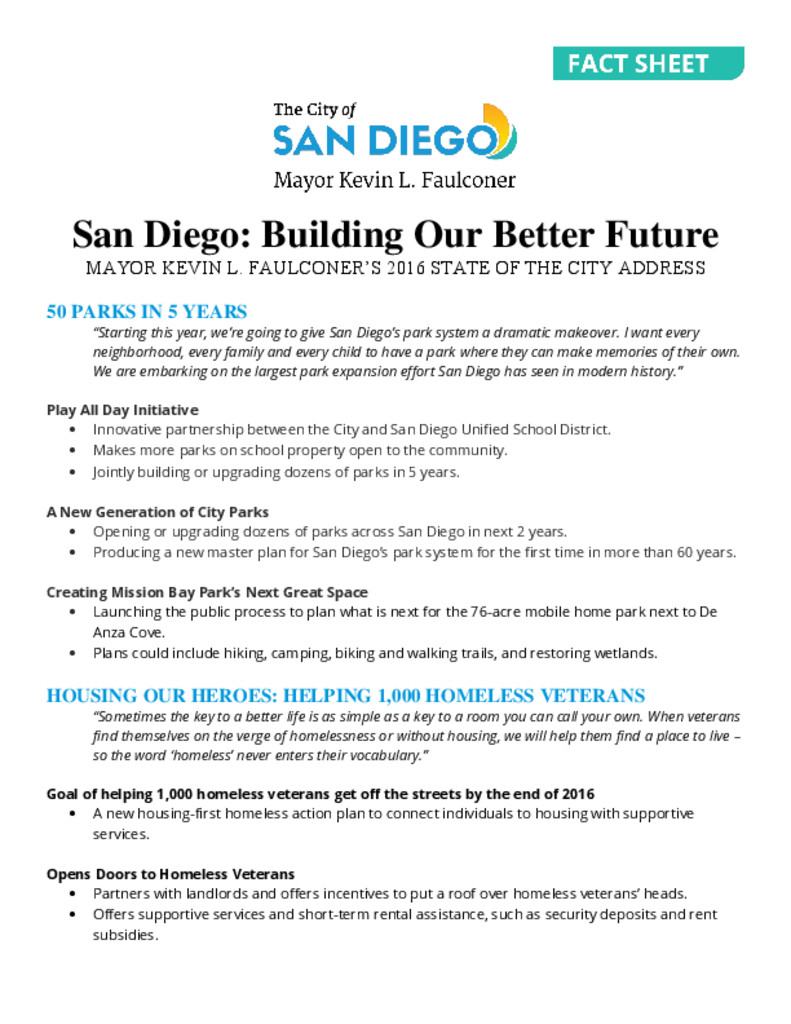 Heralding 2016 as the year we begin the next phase of One San Diego, Mayor Kevin L. Faulconer on Thursday [January 14, 2016] presented his blueprint for building a better future for all San Diegans in his second State of the City address. Excerpts:
Published by Union Tribune

And we will complete park upgrades in Oak Park, San Ysidro, Linda Vista, Mountain View, City Heights, Tierrasanta, Rancho Penasquitos and University City.

This year we will begin an effort to create a new master plan for San Diego's park system – the first comprehensive vision for San Diego's parks in more than sixty years. It will give us a blueprint for building parks in every community. And finally, we are going to strengthen the bond between our schools and our neighborhoods.

Quality schools make quality neighborhoods, and quality neighborhoods have quality parks. Today, there are fields and green spaces across San Diego that our communities could use on evenings and weekends. But because they're on school property, they get locked up whenever class isn't in session.

Our communities and our school system are fundamentally linked. We shouldn't let government bureaucracy stand in the way of making our neighborhoods great. That's why I'm teaming up with the San Diego Unified School District.

Our "Play All Day" initiative will open up new community parks on school property. We're going to build or upgrade dozens of parks next to our schools – and do it in the communities that need it the most.
View the entire media release "Mayor Faulconer's 2016 State of the City Address Prepared Remarks" at http://www.sandiego.gov/mayor/news/releases/20160114_StateoftheCityAddress.shtml
Excerpt source: http://www.sandiego.gov/
Fact Sheet source: http://www.sandiegouniontribune.com/news/2016/jan/14/faulconer-state-of-city-parks-homeless/
View related news at https://www.universitycitynews.org/category/university-city-news-ucca/
---
Notes: Join UCCA today at https://www.universitycitynews.org/join-ucca-today/
If you have a news item to share, please submit your story through UCCA's Contact Us link at https://www.universitycitynews.org/contact-us-or-volunteer-in-uc/
Review article guidelines at https://www.universitycitynews.org/ucca-newsletter-archives/
What do Facebook, Twitter, Nextdoor, ImproveUC and UCCA have in common? They are all ways neighbors can connect with neighbors and the University City community. Create a post, start a conversation, share the news, organize an event, keep in touch, take a look: