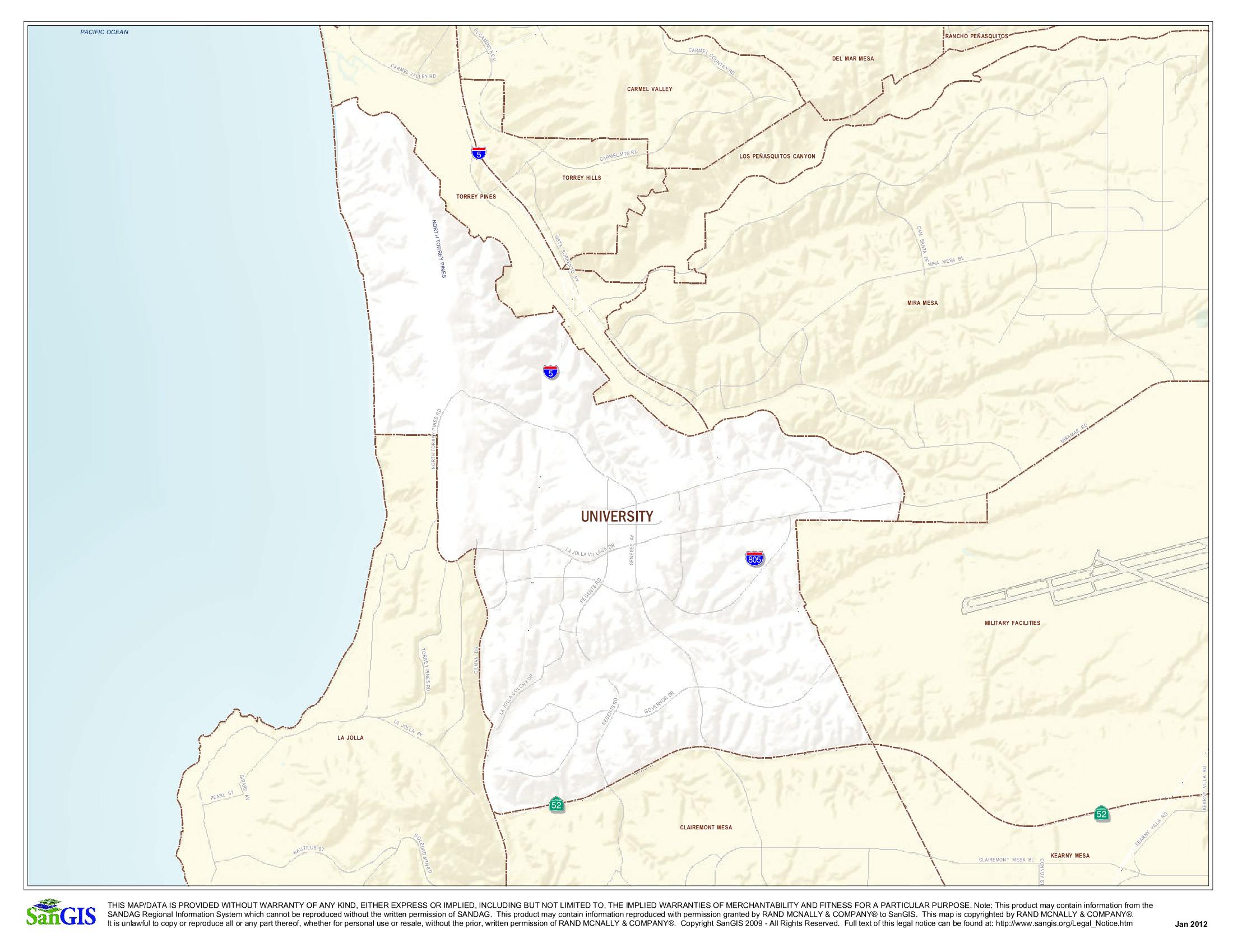 Submitted by UCCA President Barry Bernstein:
At the January 12, UCPG University Community Planning Group meeting, board members carefully reviewed two major building projects in North University City, and cautioned builders about the impact of vehicle "trips" generated by their proposals and their need to "amend" the University City plan to accommodate such projects. Discussion throughout the presentation led to the need to develop specific guidelines for all future building projects.

Dan Monroe, representing the city's planning department, reviewed the recent December E.I.R. meeting. He spoke of the time frame needed in the development of a document to reflect the various factors that have been gathered from the public meeting and the submitted written comments. He indicated that within a week or two that this will be completed and made available to the public. (online and at our public libraries). He also indicated that a public survey is being developed (online), for additional collection of data/opinions this Spring.

The "Unify U.C.", Rose Canyon/Bridge proposal developed and introduced by Louis Rodolicco, a South U.C. resident, was reviewed and discussed. His concept was to move the Rose Canyon railroad lines to either underground lines, or directly north along Interstate 5, create a small lake to accommodate various drainage/environmental issues, and to complete the Regents Rd. Bridge. The UCPG board voted not to endorse his proposal.
The next UCPG meeting will be held on Tuesday, February 9, 2016, at the Scripps Building at 10010 Campus Point Drive, first floor on the left. Plenty of free, open parking. For information and agendas, visithttp://www.sandiego.gov/planning/community/profiles/university/agendas.shtml
To view related posts, visit https://www.universitycitynews.org/category/ucpg/
---
Notes: Join UCCA today at https://www.universitycitynews.org/join-ucca-today/
If you have a news item to share, please submit your story through UCCA's Contact Us link at https://www.universitycitynews.org/contact-us-or-volunteer-in-uc/
Review article guidelines at https://www.universitycitynews.org/ucca-newsletter-archives/
What do Facebook, Twitter, Nextdoor, ImproveUC and UCCA have in common? They are all ways neighbors can connect with neighbors and the University City community. Create a post, start a conversation, share the news, organize an event, keep in touch, take a look: