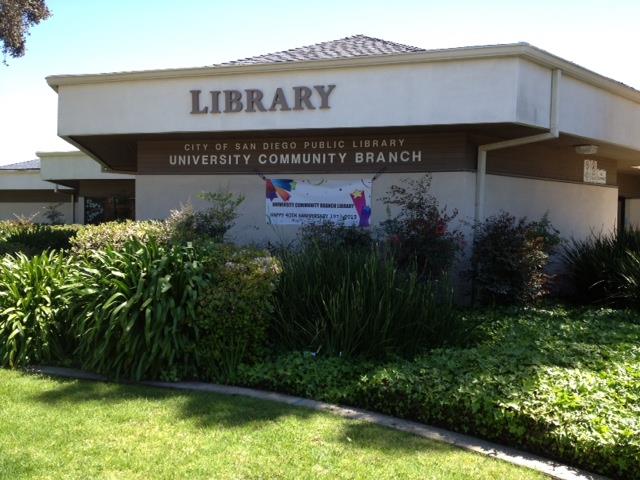 Events for Adults/Seniors: 
Library on Governor

Qi Gong – Every Monday @ 9:30 – 11:30 AM (except for February 15th). Qi Gong (Chi Gong) is a simple preventative health method of relaxing and harmonizing the body. These gentle exercises are suitable for any age and health condition.

♫♫♫ Zumba for Special Needs and Beginners – Every Monday @ 1:00 – 2:00 PM. Led by Lis Garces (licensed Zumba® instructor since 2007), Founder/Director of the Juan Carlos Organization providing dance therapy exercise for the Special Needs Community.

Adult Yoga – Every Thursday @ 4:00 – 5:00 PM. Gentle exercises to aid flexibility and improve concentration. Bring your own mat or towel.

Chair Sit Yoga – Tuesday, February 2 & 16 @ 2:00 – 3:00 PM. Get fit where you sit! Chair yoga is a gentle form of yoga that is practiced sitting on a chair or standing using a chair for support.

♫♫♫ Accordion Club – Saturday, February 13 & 27 @ 9:30 AM – 12:30 PM. All are welcome! Second and fourth Saturday of each month.

♫♫♫ Concert: Ayrton Pisco Violin – Wednesday, February 3 @ 6:30 – 7:30 PM. Ayrton Pisco began playing the violin at age of three under the guidance of his mother and father. He has performed as a soloist with orchestras of the Music School of Brasilia, and has participated in festivals including the New York String Orchestra Seminar.

Peripheral Neuropathy Lecture – Tuesday, February 9 @ 1:00 – 3:00 PM. Learn how to end neuropathy pain. Limited space, please call (619)275-3683 to RSVP. Presented by: The Foundation for Wellness Professionals, a nonprofit.

UCCA University City Community Association – Wednesday, February 10 @ 6:00 – 8:00 PM. UCCA meets monthly on the 2nd Wednesday. This is a community meeting featuring updates from law enforcement, fire-rescue service, legislative and other community leaders. All are welcome.

Oasis: Essential Oils for You and Your Pet's Health – Thursday, February 18 @ 2:00 – 3:30 PM. People are not the only creatures who can benefit from nature's medicine. Come learn about Certified Pure, therapeutic-grade essential oils and how they can have a positive, safe effect on many of your healthcare issues!

Scrabble Club – Tuesday, February 23 @ 5:00 – 7:45 PM. All are welcome! Bring your own board and meet new friends!

UC Book Club – Wednesday, February 24 @ 2:00 – 3:00 PM. The Book Club will be discussing Saving Fish from Drowning by Amy Tan.
Events for Children: 
Preschool StoryTime for Kids – Every Thursday @ 10:30 – 11:30 AM. Join us for stories, crafts, finger plays and songs.

LIVE! Homework Help – Every Tuesday & Thursday @ 2:30 – 4:30 PM. A volunteer will be at the library to help with homework.

Makerspace Craft Station – All week long (Monday – Saturday). A craft station is available in the Children's Area with a different craft each week.

Tales for Tails – Saturday, February 6 @ 1:00 – 2:00 PM. Children can read aloud to trained and certified therapy dogs. "Tales for Tails" is designed to help children improve their reading skills and confidence in reading out loud. Children age 8 and under must be accompanied by an adult.

SD Book Arts – Wednesday, February 10 @ 2:00 – 3:00 PM. Join us in the community room for a Valentine's Day craft.

ROKENBOK STEM Education – Tuesday, February 23 @ 2:30 – 3:30 PM. ROKENBOK is a construction system that supports early STEM education. Its curriculum is designed to engage students' minds, eyes and fine motor skills as well as boost understanding of core STEAM competencies. Space is limited; please call (858) 552-1655 to RSVP.
Events for Tweens/Teens: 
Kendama Club – Every Wednesday @ 1:30 – 2:30 PM. Test your skills against others, learn new tricks and just have FUN!!!

Video Game Fridays – Every Friday @ 3:00 – 4:00 PM. Wii gaming with your friends, Get your game on!

Teen Writing Club – Wednesday, February 10 @ 3:00 – 4:00 PM. In this month's Teen Writing Club we will be talking about techniques for writing tantalizing tales.
Courtesy of Larry Hoeckelmann Jr., Youth Services Librarian, San Diego Public Library University Community Branch, 4155 Governor Dr., San Diego CA 92122 – 858-552-1655
Related posts at https://www.universitycitynews.org/category/library/
---
Notes: Join UCCA today at https://www.universitycitynews.org/join-ucca-today/
If you have a news item to share, please submit your story through UCCA's Contact Us link at https://www.universitycitynews.org/contact-us-or-volunteer-in-uc/
Review article guidelines at https://www.universitycitynews.org/ucca-newsletter-archives/
What do Facebook, Twitter, Nextdoor, ImproveUC and UCCA have in common? They are all ways neighbors can connect with neighbors and the University City community. Create a post, start a conversation, share the news, organize an event, keep in touch, take a look: