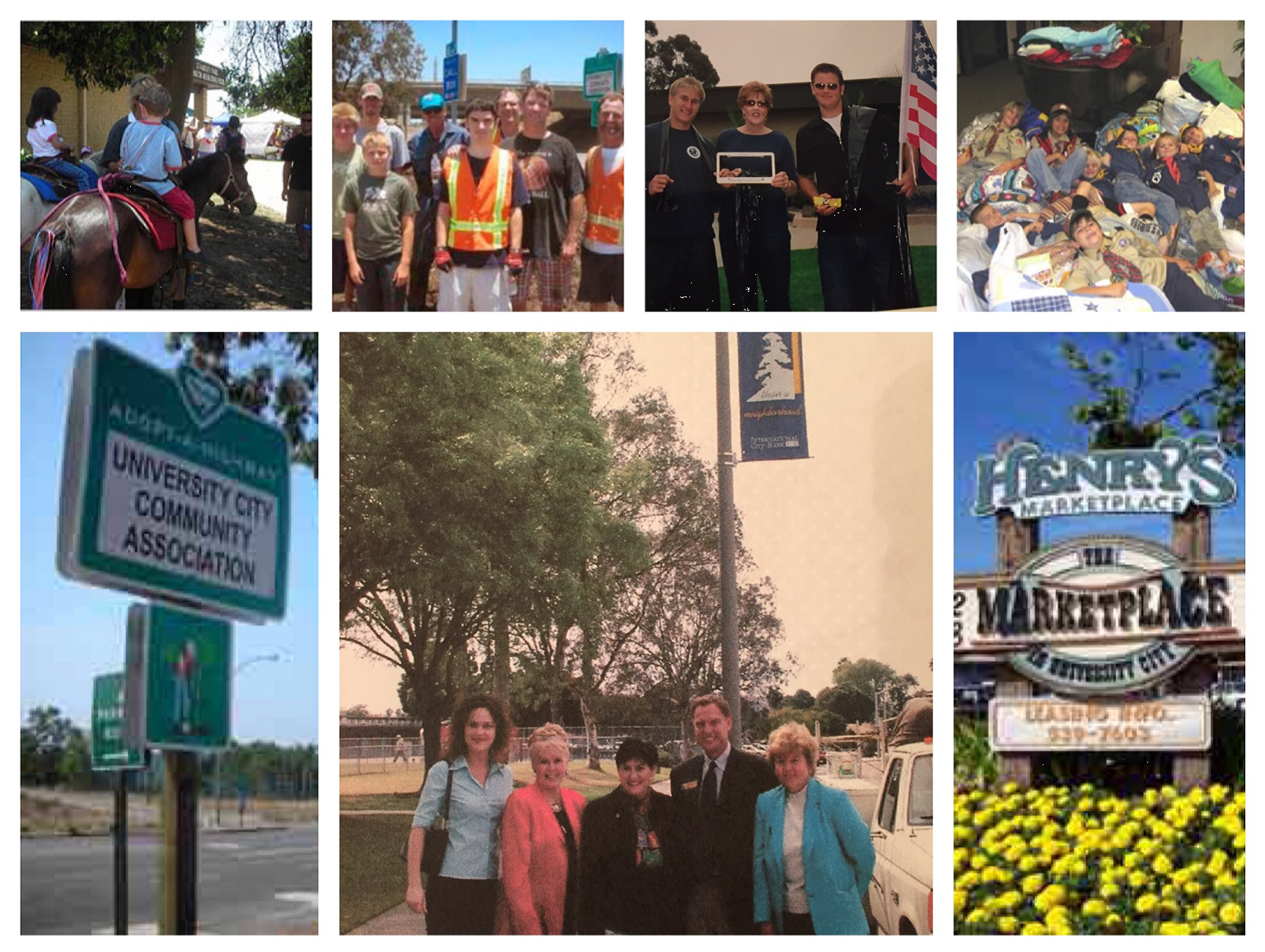 Courtesy of Carole Pietras, UCCA's first Vice President:
Today we are so used to instant communication…texting, emailing, tweeting using our smart phones, tablets and computers.

Looking back to 2002, when our community association was revived as University City Community Association (UCCA), computers were a lot slower; those who had email didn't always check it, and a lot of communication was by plain old word of mouth.

Sandy Lippe had already recruited volunteers in 2001 with Project L.O.V.E. (Landscaping Our Various Environments). We each called and talked to friends asking them to join the effort to support the beautification project and revive the community association. New volunteers in turn called and talked to others and the group grew. Through Project L.O.V.E., Sandy had obtained International City Bank's $10,000.00 sponsorship for our first banners. Those banners were ceremoniously hung on March 21, 2002 marking the rebirth of UCCA.

Things started moving quickly. By the time the first newsletter was printed in May, the Garden Club was established and meeting on the 4th Thursdays of the month. Linda Canada was the contact. The first community Clean UP was scheduled for May 18, and residents were being advised about Free Street Trees. Dayna Hydrick had set up a website and served as webmaster.

UCCA's first officers were Sandy Lippe, President; Carole Pietras, Vice President.; MaryAnn Guerra, Secretary; Melodie Hallet, Treasurer; and Darlene Ventimiglia, Historian. We all owe Darlene a huge thank you for the wonderful scrapbooks she put together preserving our history through last year!
---
Images from Darlene Ventimiglia's scrapbooks and UCCA slideshows based on images from webmaster Dayna Hydrick at University City News.
Notes: Join UCCA today at https://www.universitycitynews.org/join-ucca-today/
If you have a news item to share, please submit your story through UCCA's Contact Us link at https://www.universitycitynews.org/contact-us-or-volunteer-in-uc/
Review article guidelines at https://www.universitycitynews.org/ucca-newsletter-archives/