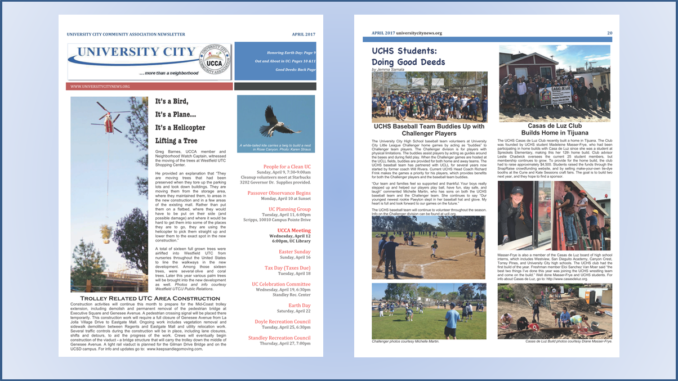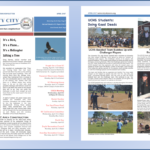 The April newsletter is now available at the University Community Library at 4155 Governor Drive and at the Recreation Center and will be delivered to homes in south University City by UCCA's newsletter volunteers this weekend.
It is also posted online on UCCA's Newsletter Page at https://www.universitycitynews.org/ucca-newsletter-archives/
Top stories include:
UTC Mall and Mid-Coast Trolley construction
Barry Bernstein community message
4th of July Celebration
Public Safety Advisory Team
Keeping San Diego seniors safe
Buy Local
Barbara Bry, City Council, District 1, community message
Library programming and UC Library Friends
Egg Hunts and other Easter-related events
UCHS Dance Recital
Rotary's Quintessential Craft Beer & Wine Festival
Single Father Club
Earth Day
Shredfest date change
UC Cars and Coffee
Time to Play Ball – UCLL
Stella and Transformer Box
UCPG March meeting summary
Marcy Park
UCHS students: Doing Good Deeds
Local advertisers show their support
And much more!
Thank you to all our community contributors and volunteers. Without  you, we could not bring you this community resource.
If you love University City as much as we do, please join today at https://www.universitycitynews.org/join-ucca-today/