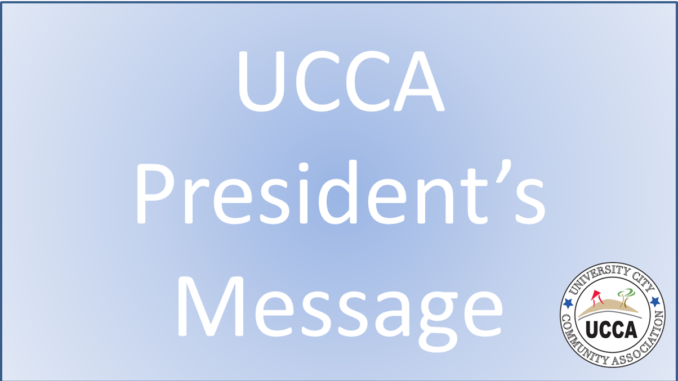 April is here, it brings to us a month full of important holidays and events.

Students are back in school after an early Spring break, local youth baseball and softball leagues will be keeping us busy in the evenings and weekends, and of course preparing for special holiday events. UCCA wants to wish everyone celebrating Easter and Passover the very best. Good luck to the children looking for Easter eggs and the matzoh afikomen.

Another hopeful Padres season opens with many new players on their roster, the NCAA Basketball Tournament will crown a new champion, tax filing, Earth Day, and the opportunity to check out Los Primos Mexican Food Restaurant in the UC Marketplace are some of the many ways we'll keep busy this month.

Finding a way to utilize North UC developer's funds to improve and maintain our public parks is being explored. Representatives from both Improve UC and "ImagineUC 2020" met with City Parks and Recreation and our City Attorney in March to discuss that possibility. UCPG representatives from South UC will be encouraged by UCCA to support this concept by prioritizing accumulated funds for Parks and Beautification for all of University City when working with the City's planning department. Meagan Beale was re-elected at UCPG's March meeting to serve as one of our three South UC resident positions.

Work on Genesee Ave will be continuing, mostly at night. The pedestrian bridge just north of La Jolla Village Drive will probably be demolished by the time you receive this newsletter. The new UTC is coming along nicely. Macy's still a holdout of sorts according to John Alderson, Westfield vice-president. He also reported that there are no new prospects to take over what will be the old Nordstrom's building.

Costa Verde Mall will be going to City Council in June with its first environmental study report related to it proposed expansion. UCCA and Regency Centers (Costa Verde Mall), are pleased to be co-sponsoring UCHS Sights and Sounds music showcase. We're hoping to receive information on our street banner grant proposals this month.

UCCA is working with Standley Park Recreation Council to design a "Celebration" banner as well as summer concert banners. The SD County Fair banners will be going up in June. Look for some very cute faces of Spreckels kindergarten students.

Save the date: Col. Woodworth, the CO at Miramar MCAS, will be at the June UCPG meeting to answer any questions related to flight patterns, as well as any concerns related to the anticipated arrival of the F-35 aircraft.

The next UCCA meeting is Wednesday, April 12, at 6 PM, at the Community Branch Library on Governor Drive. Our special guest will be California state Senator Toni Atkins.
For related posts, visit https://www.universitycitynews.org/category/presidents-remarks/