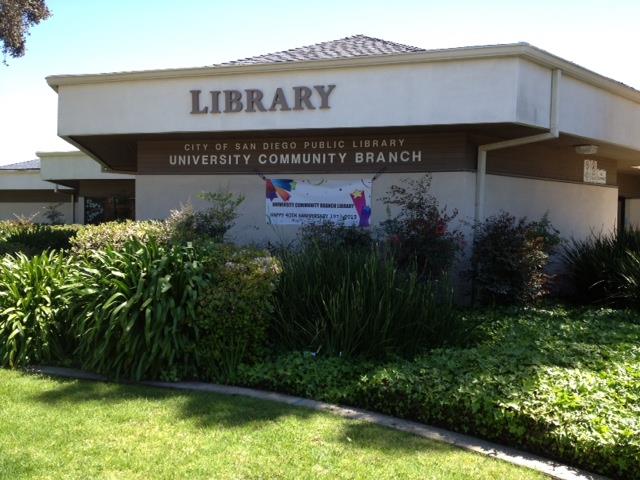 Beat the heat and attend one of the free programs offered at the library during September. The library is air-conditioned and is a Cool Zone.
Courtesy of University Community Branch Library, 4155 Governor Drive, 858-552-1655, www.sandiego.gov/public-library; now open Saturdays from 9:30 AM to 6 PM!
---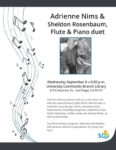 Programming for Adults
CERT Meeting: The UC CERT meeting, originally scheduled for Tuesday, September 5, has been rescheduled. The new date and location is September 12, 6:30 PM, 3883 April Court, University City. Contact Alexei Prohoroff/UC CERT, Community Emergency Response Team at aprohoroff@yahoo.com for information.
Concert: Adrienne Nims and Sheldon Rosenbaum will be playing classical music. Wednesday, September 6 @ 6:30 p.m.
Adult Writers' Group – Meet with other beginning writers in a supportive environment—share your writing, positively critique others' work and hear from guest writers. Thursday, September 7 @ 1:30 p.m.
Accordion Club meets the second and fourth Saturday of each month. All are welcome! Saturday, September 9 & 23 @ 9:30 a.m. – 12:30 p.m.
Computer Class, photo sharing. Space is limited, please call (858)552-1655 to RSVP. Monday, September 11 @ 10:30 a.m.
University City Community Association (UCCA). This is a community meeting featuring updates from law enforcement, fire-rescue service, legislative and other community leaders. All are welcome. Wednesday, September 13 @ 6:00 – 8:00 p.m.
Jewelry Making, take home something you made yourself! Make your own earrings and/or other pieces of jewelry with an experienced crafter. Space is limited, please call (858)552-1655 to RSVP. Friday, September 15 @ 10:00 a.m. & Noon.
UC Book Club will be discussing Between the World and Me by Ta-Nehisi Coates. Wednesday, September 27 @ 2:00 p.m.
Codependency and Intervention – learn what enabling behavior is and why it isn't helpful, and learn how to plan and implement a successful intervention. The program is led by John Seaman, MA, MAC, CADC II, an instructor at UCSD. Wednesday, September 27 @ 6:30 pm.
Friends of the Library Book Sale
Thursday, September 28 from 1:00 p.m. – 5:30 p.m.
Friday, September 29 from 9:30 a.m. – 5:30 p.m.
Saturday, September 30 from 9:30 a.m. – 5:30 p.m.
Programming for Children
Preschool Storytime for Kids; stories, crafts, finger plays and songs. Every Thursday @ 10:30 – 11:30 a.m.
Makerspace Craft Station is available in the Children's Area with a different craft each week. All week long (Monday – Saturday).
Button Making – we will be making 1 inch buttons from magazines and printed materials. You can bring in your own print outs to make buttons too! Wednesday, September 20 @ 2:00 p.m.
Programming for Tweens/Teens 
Video Game Fridays, Wii gaming with your friends, Get your game on! Every Friday @ 4:30 p.m. Back to our regular time of 3:00 after the Summer Reading Program, August 18.
ThoughtSTEM Coding for Kids. Kids new to coding are welcomed. Space is limited, please call (858)552-1655 to RSVP. Tuesday, September 12 @ 3:30
---
To discover programming throughout the San Diego Public Library system, visit https://www.sandiego.gov/public-library/news-events
For related posts, visit https://www.universitycitynews.org/category/library/ 
Notes: Many thanks to the Friends of the Library for their generous sponsorship. You, too, can be a Friend; ask at the Check Out Desk. Please call the library to confirm any given program and holiday hours. Changes are rare, but may occur.