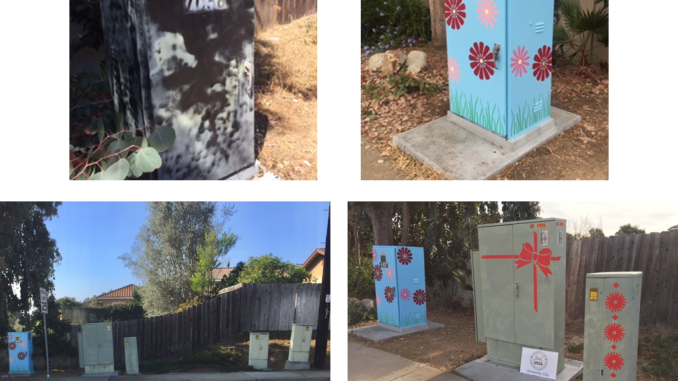 Courtesy of Diane Ahern:
Using donated materials (Con-tact brand self-adhesive removable decorative covering) and donating our time and labor, my friend and neighbor Kathy Niess and I installed a temporary art piece on two AT&T utility boxes at 7056 Gullstrand Street. It's our holiday gift to our neighborhood.

You may recall that last summer, we painted a box at that location that had been covered with graffiti and black paint. There are a total of six utility boxes and Kathy and I have plans for all.

Take a look at the attached photo to see phase two of the transformation. And the next time you're at the Tot Lot, check it out in person.

University City Community Association (UCCA) sponsors the utility box beautification program in our community. If you are interested in beautifying a utility box in your neighborhood, you will find details in the December print newsletter which will be released on Friday, December 1.

You may also find information on UCCA's website at https://www.universitycitynews.org/transformer-art-project/
Happy holidays from UCCA!