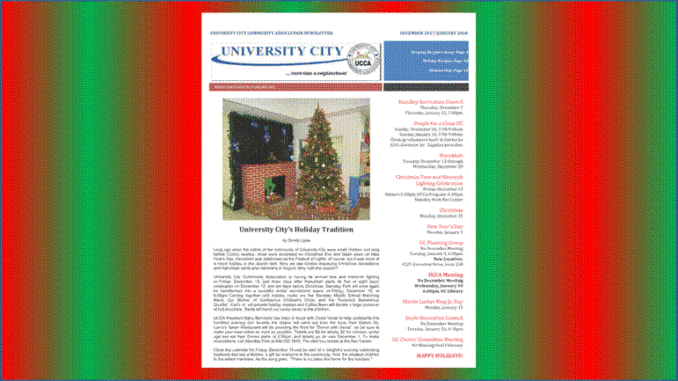 The combined December January newsletter is now available online and at the University Community Library at 4155 Governor Drive and at the Standley Park Recreation Center. It will be available at the North University Community Library and Doyle Recreation Center this weekend. And delivered to homes in south University City by UCCA's newsletter volunteers this weekend.
This issue includes articles on these topics:
Advertisers make our newsletter possible; please check the advertising section for local business information
Animal Control (off leash dogs in City parks)
Board members – UCCA and UCPG (lots of pictures!)
Buy Local
County programs to help the homeless  – County Supervisor Kristin Gaspar
Crime Prevention, Neighborhood Watch
Dana Cochran, Skin Care
Dinner with Santa (cover story!)
Fire Safety
Holiday Concerts (at the library!)
Holiday Recipes (with color pictures!)
Honor a Teacher with EdUCate
Library Essay Contest
Library Programs
Miramar Fire Department
Miramar Landfill Odors
Mr. Marcus receives award
People for a Clean UC – neighborhood cleanup
Police and Fire contact information
Pure Water – sewer pipeline on Genesee
Serve Weekend participants (with color pictures!) iopo
Street Banners grant from San Diego County (with color picture!)
Traffic and Pedestrian Safety (report from Councilmember Barbara Bry)
Tree Lighting, Menorah Lighting (cover story!)
Turkey Trot (with color pictures!)
UC Planning Group UCPG, Janay Kruger
UCCA Membership Report
UCLL Little League Spring Registration
Utility box art – looking for artists
And much more!
The December January issue is posted online as a PDF on UCCA's Newsletter Page at https://www.universitycitynews.org/ucca-newsletter-archives/
If you love University City as much as we do, please join today at https://www.universitycitynews.org/join-ucca-today/