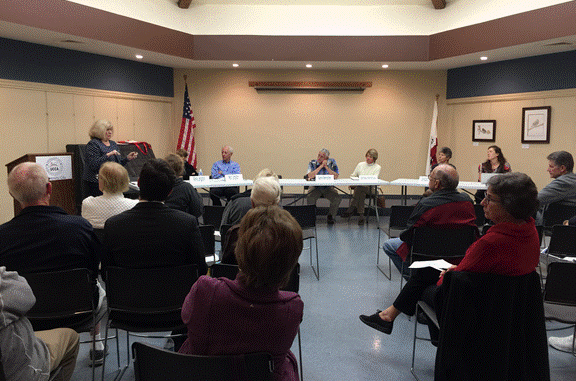 Happy Holidays Everyone. Christmas and Hanukkah are here…2017 has really zipped by. Our new street banners along Governor Drive have signaled the beginning of the winter holiday season.
UCCA and Standley Park Rec are sponsoring "AN EVENING OF CELEBRATION" on Friday, December 15. "Dinner with Santa" begins at 5 PM, (thank you Lorna's), and UCCA's Tree/ Menorah Lighting Program begins at 6 PM. There will be delicious food, (sorry no latkes), activities for the children, musical entertainment, and of course a visit by the jolly old elf himself. Hope to see you there. I'll be the guy with the hot chocolate, (courtesy of Coffee Bean), and a large choc chip cookie, (courtesy of Carl's Jr.) in my hands. And thanks to Costa Verde, (Regency Centers), the major underwriter of this annual community celebration at Standley Park.
Football playoffs/bowl games will be keeping some of us glued to the TV, even as high school and college basketball seasons get underway these next couple of months. Congratulations to the UCHS Football team for a very successful season.
Shopping/parking may be a challenge at UTC, but isn't that always part of the holiday shopping fun. Hope you get a chance to check out all their new stores and are keeping safety in mind by locking your car and being cautious of your surroundings. That's important advice from our SD Police.
Pure Water SEWER PIPELINE UPDATE: Janay Kruger, University Community Planning Group (UCPG) chair, addressed the audience at the November UCCA meeting. She explained the major concern to the proposed City Water Department plan to trench a very large sewer pipeline through University City. UCPG and UCCA Boards have sent letters of disapproval of this plan to the City of San Diego, and have asked for alternative pipeline alignments to be considered. UCPG, "UCCF/ImproveUC", and UCCA have joined forces in seeking a halt to the proposed City's Water Department sewer pipeline route. Its current proposed alignment on Genesee, from Clairemont Mesa Blvd north to Nobel and east to Town Center Drive, may cause major interruptions to traffic circulation, safety, and health issues for our community. Our joint efforts in asking the City to abandon the current plan and review alternative pipeline "paths" that will have less negative impact on University City residents, schools, and businesses, will be put to the test.
The anticipated results of the litigation between "Citizens for the Regents Road Bridge" and the City of San Diego will be announced at a later date following a non-public hearing in mid-January. Our February newsletter will provide available updated information.
Thank you for supporting/re-electing me and our other newly elected UCCA officers for 2018-19. I look forward to continuing as your president and representing the University City community. There are always things needing to be done to maintain and improve our community…so my thanks go out to all of our volunteers and to the UCCA officers and Board for a job well done. Your dedication and efforts are what makes University City "more than just a neighborhood". Here's wishing you and yours a wonderfully joyous holiday season and a happy and healthy 2018!
Join UCCA today at https://www.universitycitynews.org/join-ucca-today/