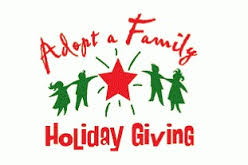 Courtesy of UCHS PTSA:
Spread some UCHS (University City High School) Holiday Cheer and help the PTSA (Parent Teacher Student Association) Adopt-A-Family Program.

The program directly benefits UCHS students and families who are in need of a little something extra this year. Your tax deductible donation will help us purchase grocery gift cards, store gift cards and wish list items. The PTSA will be accepting donations through December 15, go to the PTSA website at http://uchsptsa.org

If you, your family, your group would like to adopt an entire family, or donate wish list items, please contact Jemma Samala at jemmasamala@gmail.com.

'Tis the time to give; please consider donating to those in our UCHS family. Thanks and Happy Holidays!
For related posts, visit https://www.universitycitynews.org/category/uchs/