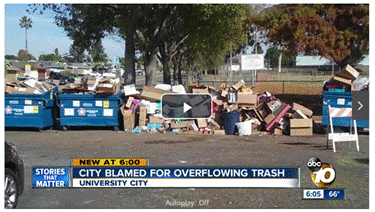 University City residents woke up the day after Christmas to piles of trash overflowing from recycle bins at the beloved Standley Community Park.
As reported by Jonathan Horn ABC 10 News:
But they say this is not just a post-holiday one-off.

The three bins are at the entrance to the park, on Governor Drive. Longtime resident Barry Bernstein says they overflow at least three times a week.

Bernstein said the street-side location also makes an easy invitation for people to dump off their junk. He's seen stoves and couches among the recyclables.

Review the entire news story and additional photos at: https://www.10news.com/news/residents-blame-city-for-trash-heap-at-park
Editors notes:
Residents with ideas for a permanent solution to the recycle bins at Standley Park are urged to contact City Council representative Bridger Langfur at BLangfur@sandiego.gov and Park & Recreation Department area manager Berenice Garcia at BereniceG@sandiego.gov.
The next University City Community Association meeting is scheduled for Wednesday, January 10 at 6 PM at the University Community Library on Governor Drive. City Council Representative Bridger Langfur is expected to provide an update.
The next Standley Park Recreation Council meeting is scheduled for Thursday, January 25 at 7 PM at the Standley Park Recreation Center. Area Manager Berenice Garcia is expected to provide an update. All residents are welcome and encouraged to speak during the open forum and communications segments.
Contact University City Community Association at https://www.universitycitynews.org/contact-us-or-volunteer-in-uc/
Join UCCA at https://www.universitycitynews.org/join-ucca-today/