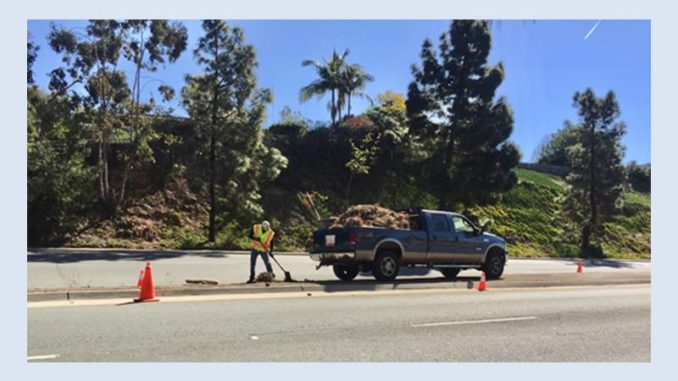 Looking for Spring cleanup inspiration? Look no further than our own University City neighbors.
Rudy Molina, taking clean up into his own hands: UCCA salutes Rudy Molina (pictured above) who decided to clean up the median on Genesee south of Governor, removing a truckload of dead weeds and brush and then taking it to the Miramar dump. He says he drives that stretch of Genesee almost every day and was bothered by the overgrown and dead weeds on the median which did not reflect positively on the "Welcome to University City" message on the monument sign.
Vince Reardon and People for a Clean UC: UCCA also salutes Vince Reardon who created the group People for a Clean UC to help clean up the community along some of our main University City sidewalks and streets including Governor Drive, Regents Road, and Genesee Avenue. The group meets the second Sunday of each month in the parking lot near Starbucks on Governor Drive at 7:15 AM and cleans up from 7:30 to 9 AM. This month's meetup is Sunday, March 11. All needed supplies provided.
Neighbors helping neighbors: Spring cleaning is for both the inside and outside of your home. Doesn't it feel good to freshen up, to get rid of unnecessary items, and reorganize? This year, why not step outside your home and really look at it as an extension of your indoor space. Ask yourself, how can I make my property look better? Minor improvements such as weeding, trimming, removing debris, dead trees and shrubs, putting trash cans away, repairing broken fences, removing furniture, storage units could make a big difference. Grab a shovel, rake, clippers, trash bags and a buddy.
In all cleanup activities, remember to recycle responsibly by using the blue recycling bins for curbside pickup and to dispose of green waste in the green waste bins. Let's all do our part as neighbors to maintain the beauty of our community, our University City.