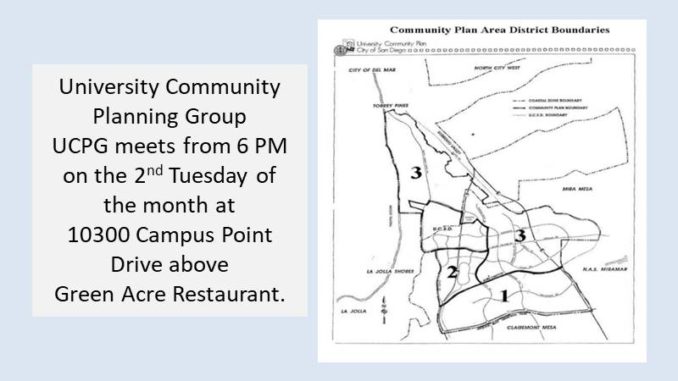 University Community Planning Group (UCPG) is holding elections before and during its March 13 meeting.
There is one contested position for the University Community Planning Group election on March 13: the Resident 1B (south University City) position. Candidates are incumbent Andrew Wiese and challenger Katie Rodolico. The election will take place before and during the March 13 UCPG meeting from 5 to 8 PM.
The UCPG meeting will begin at 6 PM. The meeting agenda will include the expansion of Costa Verde, the Pure Water pipeline plan for Genesee, and the cell towers at Doyle.
The location is 10300 Campus Point Drive above the Green Acre Restaurant. Follow the signs for parking, voting, and meeting locations.
The agenda is posted on the City's website at https://www.sandiego.gov/planning/community/profiles/university/agendas
For related posts, visit https://www.universitycitynews.org/category/ucpg/