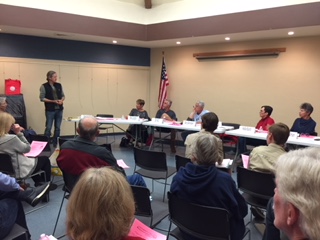 If you have an agenda item to suggest or wish to speak during open forum, please contact us using the 'contact us' page at https://www.universitycitynews.org/contact-us-or-volunteer-in-uc/
This is a community meeting featuring updates from law enforcement, fire-rescue service, legislative and other community leaders. All are welcome. Wednesday, March 14 @ 6 to 8 PM, at the University Community Library, 4155 Governor Drive. This month's refreshments include homemade cookies.
UNIVERSITY CITY COMMUNITY ASSOCIATION
MARCH 14, 2018— 6:00 P.M.
A G E N D A :  (tentative)
6:00 – WELCOME/FLAG SALUTE
INTRODUCTION OF GUESTS
6:05- APPROVAL OF FEBRUARY MINUTES, VOTE
APPROVAL OF AGENDA, VOTE
6:10- SDPD/SD FIRE AND RESCUE
6:15- LEGISLATIVE REPRESENTATIVES
6:30- COSTA VERDE REVITALIZATION PRESENTATION – JOHN MURPHY/AMY SPEAR
6:45- PRESIDENT'S REMARKS
6:50- OPEN FORUM/REQUESTS FOR FUNDING
UCHS- SIGHTS AND SOUNDS, (MOTION/VOTE)
UCLL-GENERATOR REQUEST, (MOTION/VOTE)
UCHS – GRAD NITE REQUEST, M. HAGSTROM
BOY SCOUT TROOP 11-SCOUTMASTER BILL GREER
ARTIFICIAL CHRISTMAS TREE PURCHASE
UCCF/"IMPROVE UC"- RUTH DESANTIS, PRESIDENT
OTHER…..
7:00- TOWN COUNCIL COALITION- EDEN YEAGE/LYNN HAIMS
7:05- PURE WATER/SEWER LINE UPDATE
7:10- BREAK…….BREAK…..BREAK……
7:20- MEMBERSHIP REPORT-HALLIE
7:25- TREASURER'S REPORT-DON, (SENT ELECTRONICALLY)
7:30- COMMITTEE REPORTS
NEIGHBORHOOD WATCH/SUMMIT/NNO
BEAUTIFICATION-MERLE (RUDY MOLINA COMPENSATION)
NEWSLETTER- DON (COPIES IN COLOR?)
SAN DIEGO COUNTY GRANTS, (UPDATE) DIANE
7:45- OLD BUSINESS/ADJOURNMENT
NEXT MEETING WED. APRIL 11, 6:00
*THANK YOU DEANNA AND BARBARA FOR REFRESHMENTS