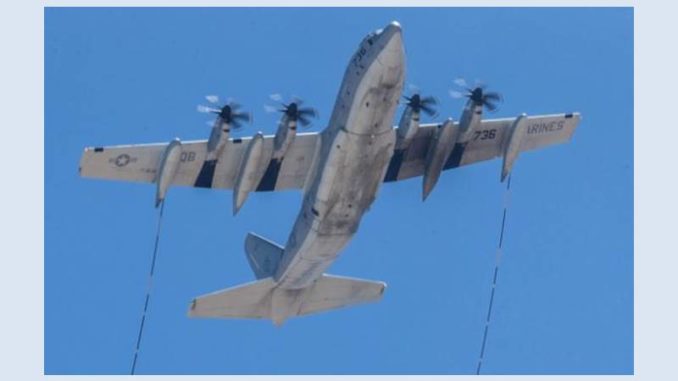 Update 3/30/2018: From 3rd MAW: Five C-130 #Hercules from #VMGR352 conducted a ceremonial formation flight over @MCASMiramarCA to celebrate their 75th Anniversary.
Video at t.co/pC3Kq5kstM from 3rd Marine Aircraft Wing's Tweet @3rdmaw
---
"The Raiders" Squadron celebrates their 75th anniversary. A battle colors ceremony to commemorate the 75th anniversary of Marine Aerial Refueler Transport Squadron (VMGR) 352 is scheduled for Friday afternoon at MCAS Miramar; this according to a media advisory from MCAS Miramar.
Five KC-130J Super Hercules aircraft from the squadron are scheduled to provide a flyover for the event.
Those living and working in the MCAS Miramar area may see and hear increased aircraft activity Friday afternoon.
For related posts, visit https://www.universitycitynews.org/category/miramar/
For MCAS MIramar press releases, visit http://www.miramar.marines.mil/News/Press-Releases/