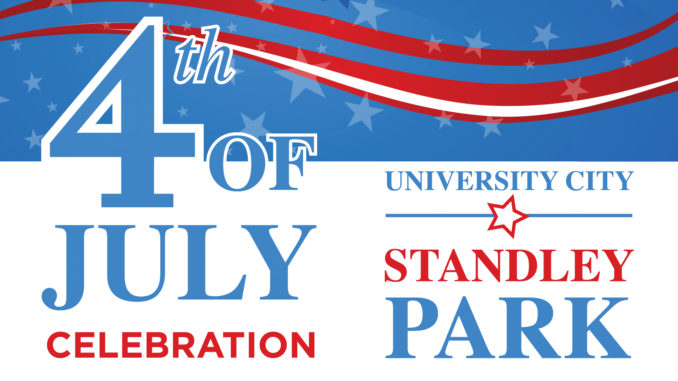 That's right, rumor has it they are thinking of hosting a snow event for the kids as part of the Celebration at Standley Park this year. If you're not able to attend planning meetings, but want to know more and are interested in volunteering, please sign up at https://uccelebration.com/. Contact committee chairs Jemma Samala at jemmasamala@gmail.com and Randall Tonini at randalltonini@icloud.com
University City's all-time favorite annual event, the UC 4th of July Celebration, returns for the 29th time in 2018. This year we continue with both traditional and some new activities.
What's new? Plan for Snow Play – yes, SNOW! We will have a special area for kids to sled down snow hills and have some snowball play.
With the success of last year's first UC Car Show at the Celebration, it will continue at the Spreckels parking lot with a special car parade. Car enthusiasts of all ages will be able to share their pride and joy with the community.
Don't stress out though, we haven't forgotten our UC traditions. Get your red, white and blue blood flowing early in the morning as we kick off the day with the 5k Race and 1- Mile Fun Run. Participants can then run over to the Rec Center where they are treated to a delicious Pancake Breakfast. The community is all invited to dine on pancakes and sausages. Then take an easy walk down Governor Drive during the colorful Pet & Bike Parade.
Throughout the day there will live entertainment, vendor booths to shop at, raffle baskets to win, free Swanson Pool swim time, games for the children and fun field games for everyone, Beer & Wine Garden, plus food, food, food! The trolley will also be providing free transportation up and down Governor Drive.
The popular Book Barn returns, and books are being collected now, especially children's books. Donated books can be dropped off anytime, but please no textbooks, encyclopedias, manuals, or tapes. Drop off book donations at: 4315 Huggins Street anytime, or deliver on July 3 to the Rec Center.
Here's what we need to pull off a successful event:
Booth Rental – we need groups and small (or large) businesses to be vendors. Food, arts & crafts, clothing, activities, your family, clubs. We need lots of booths to create our Celebration festival atmosphere. Download the booth application on the website, early bird prices good until May 26.
Volunteers – we need lots, please sign up on the website at https://uccelebration.com/
Sponsors & Donations – gift certificates, themed baskets, vacations, anything you yourself would like to win, we will accept. We also need event sponsors – you'll get special recognition and a free booth! To become a sponsor or to donate, contact jemmasamala@gmail.com.
You – we need you! Make sure to plan and attend our annual UC Celebration. Bring your chairs and blankets, bring your friends and family, bring your beloved pooches. Bring you. It takes the UC Village to pull off the Celebration, so whatever you can do to contribute, please do.
Contact committee chairs Jemma Samala at jemmasamala@gmail.com and Randall Tonini at randalltonini@icloud.com