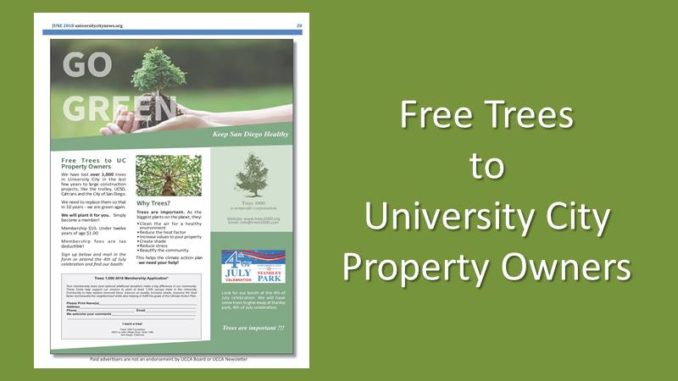 University City has become a construction zone, on all sides. The new trolley line, bridges, streets, and the Westfield UTC re-build have made it tough to get around and are having a dramatic impact on those who live and work in this bustling community.

One big loss is the uprooting of mature trees, hundreds of them. By our count, so far approximately 600 trees have been destroyed. Up to 1000 may be lost by the time the dust settles from all the construction.
This loss has not gone unnoticed. A new nonprofit organization plans to "re-forest" University City beginning this summer. It's called, appropriately, Trees 1000, funded by private donations.
Trees 1000 kicks off its efforts on July 4 at the UC Celebration at Standley Park, giving away free trees, free planting, and launching a communitywide effort for a greener University City.
Look for the Trees 1000 booth at the 4th of July UC Celebration at Standley Park and sign up early for your tree.
Courtesy of Marti Emerald and Janay Kruger. For more information on the Trees 1000 Foundation, visit http://www.trees1000.org/
---
For more information about the UC Celebration on the 4th of July, visit https://uccelebration.com/