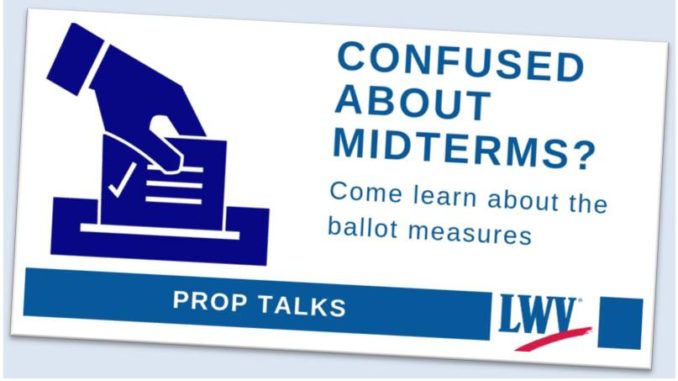 Did you know there are 11 state propositions and many more city and county propositions on the November 6 ballot? The League of Women Voters San Diego (LWVSD) members have researched all the propositions, their goals, and who has funded each and will share what they have learned. These "What's on the Ballot" sessions will cover the ballot measures. 

The League will provide information on the November propositions in two separate 90-minute presentations at these two University City area locations in September:
Saturday, September 29, 9 AM, at Good Samaritan Episcopal Church, 4321 Eastgate Mall, San Diego, CA 92121. For more information on this location, visit https://goodsamchurch.org/event/league-of-women-voters-san-diego-pro-con-presentation-on-the-november-propositions/
Sunday, September 30, 12 noon (light lunch included), University City United Church of Christ, 2877 Governor Drive, San Diego, CA 92122. For more information on this location, visit http://www.ucuc.org/lwv-presentation/
Bring your ballot or paper to take notes. Become informed about each proposition to enable your making an informed choice about your vote. The League only takes positions on the few propositions that their members have studied extensively and come to a consensus position. Invite a friend and/or neighbor as each session is open to the public.
Recommendations from League of Women Voters San Diego: voting recommendations on November ballot measures, visit https://my.lwv.org/california/article/our-voting-recommendations-november-ballot-measures

Summary of the November ballot measures: see also the September LWV Voter Newsletter at https://my.lwv.org/california/san-diego/voter-newsletter

Measures and candidates appearing on ballots in San Diego County:go to votersedge.org, choose the "look up ballots by county" option, and scroll down the menu to San Diego. To study only what's on your own ballot, enter your home address.
San Diego County voter information at https://www.sdvote.com/
For related posts from UCCA, visit https://www.universitycitynews.org/category/district-3/