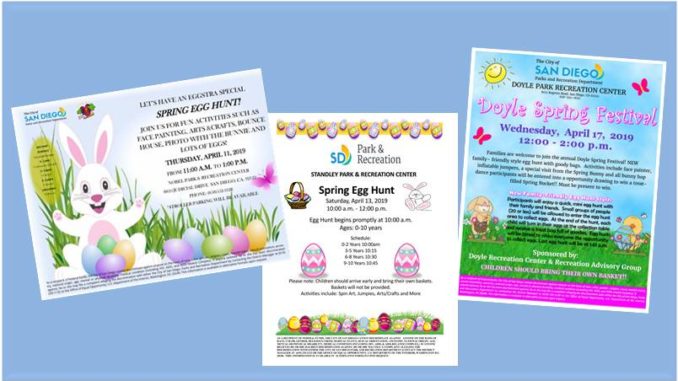 The City of San Diego has 57 Recreation Centers, 13 Pools, 7 Skate Parks and many other recreational facilities that serve both residents and visitors of all ages, abilities and income levels. University City has three Recreation Centers (Doyle, Nobel and Standley), one Pool (Swanson) and many neighborhood parks and athletic fields. Take a look at some of the activities taking place this month in University City:
Capital Improvement Projects: The UCPG planning group is UCPG taking suggestions for a list of proposed Capital Improvement Projects to be submitted to Councilmember Barbara Bry. These proposals may include parks, playgrounds, fitness courses, dog runs, and other public benefit projects that contribute to the quality of life in our community. If you would like to make a suggestion, please be as specific as you can. You may submit your proposals to the chair of the UCPG CIP at rogercavnaugh@gmail.com, or to the UCPG chair, Chris Nielsen at cn@adsc-xray.com. You are invited to attend the Tuesday, April 9, UCPG meeting to better support your proposal.
UC Celebration planning committee: The 4th of July Celebration committee is busy planning this year's fun filled day. Their next meeting with be Wednesday, April 3, at the Recreation Center. For more information, visit uccelebration.com or contact Randall Tonini at randalltonini@icloud.com
Spring Egg Hunts:

Nobel Park Recreation Center, Thursday, April 11, from 11 AM to 1 PM, at 8810 Judicial Drive, San Diego, CA 92122. Phone 858-552-1626.
Standley Park Recreation Center, Saturday, April 13, from 10 AM – 12 Noon, at 3585 Governor Drive, San Diego, CA 92122. Phone 858-552-1652.
Doyle Park Recreation Center, Wednesday, April 17, from 12 – 2:00 PM, at 8175 Regents Road, San Diego, CA 92122. Phone 858-552-1612.

Swanson Pool: The community pool is now open and is hiring summer lifeguards. If staffing allows, Swanson expects to launch their water polo program in April and begin swim lessons in May. For more information, call the pool office at 858-552-1653 or visit the City's website at SanDiego.gov and search on 'Swanson Pool'.
Recreation Council (501c3) meets on Thursday, April 25, at 6 PM, at Standley Recreation Center; the Recreation Advisory Group meets the same evening at 7 PM. All are invited and welcome to attend either or both meetings.
2019 Spring Program is effective March 1 through May 31, 2019. Copies are available at the Recreation Centers and on the City's website at SanDiego.gov.
Save the date for the UC 4th of July Celebration (Thursday, July 4), the Summer Concerts (Sunday evenings beginning July 14), and the Banana Split Ice Cream Social, scheduled for Saturday, August 3.
For more information, contact the Recreation Centers; or visit the Parks and Recreation Center homepage at https://www.sandiego.gov/park-and-recreation/centers