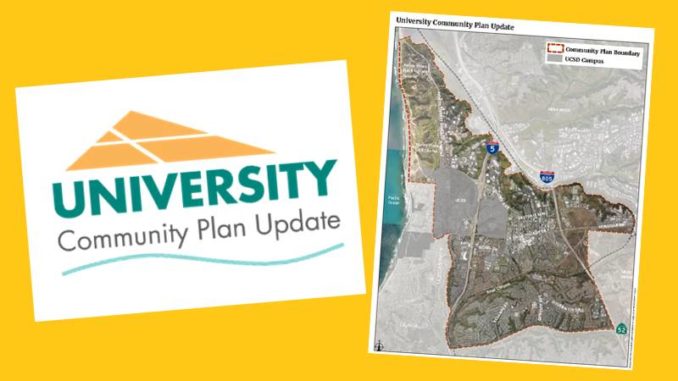 From Senior Planner Dan Monroe: Please join us for the University Community Plan Update Subcommittee Meeting scheduled on Tuesday, April 16, 2019, from 6 to 8 PM. The meeting will be held at the Media Center of the University City High School located at 6949 Genesee Avenue San Diego, CA 92122.
6:00        CALL TO ORDER / ROLL CALL BY CHAIR:  Andy Wiese
APPROVAL OF THE MINUTES – February 12, 2019; March 19, 2019
NON-AGENDA PUBLIC COMMENT:  Two minutes per speaker.
6:20        Item 1 INFO ITEM – Recap of progress to date
6:30        Item 2 INFO ITEM – Land Use Brainstorming
Brainstorm discussion on future land use possibilities, to provide input for development of community plan land use alternatives (Community Plan Update consultant team Dyett & Bhatia will lead discussion)
7:45        Item 3 INFO ITEM – NEXT STEPS
Next Meeting – May 21, 2019 (Location TBD)
Online Community Survey
8:00        ADJOURNMENT
Download the meeting agenda in PDF format by visiting the subcommittee's web-page at https://www.sandiego.gov/planning/community/cpu/university/subcommittee-university-documents
Visit our website for more information and to stay connected with the University Community Plan Update at https://www.sandiego.gov/planning/community/cpu/university
For more information, visit our website or contact Dan Monroe, Senior Planner at DMMonroe@sandiego.gov