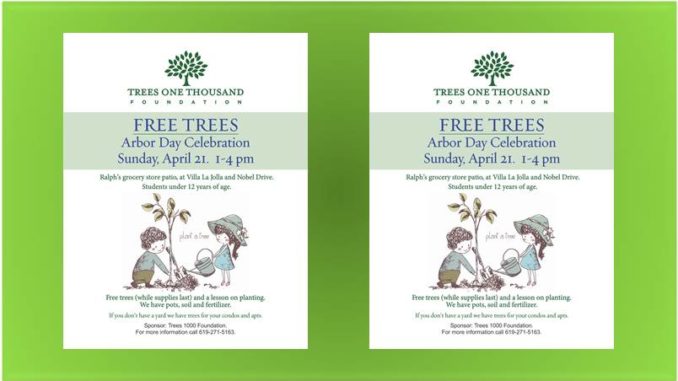 The Trees 1000 Foundation plans a special adopt-a-tree and kids Arbor Day event April 21. The foundation is dedicated to planting 1000 trees in our University City neighborhoods, replacing trees removed to make room for major construction projects in the area.
On Sunday, April 21, Trees 1000 invites elementary school children (up to and including 5th graders) and their families to adopt a tree, learn how to plant, and how to care for it. Trees 1000 will be set up outside the Ralphs grocery store at 8657 Villa La Jolla Drive, La Jolla, CA 92037, in the La Jolla Village Square, from 1 to 4 PM.
The children will be able to select their kid sized tree and plant it in a free pot, with guidance from experts at the Davey Resource Group. Many thanks to the Ponto Wholesale Nursery in Vista, for donating trees for this event. An event flyer is attached.  Trees are available while supplies last.
For more information about the Trees 1000 Foundation please visit the Trees 1000 website at http://www.trees1000.org.