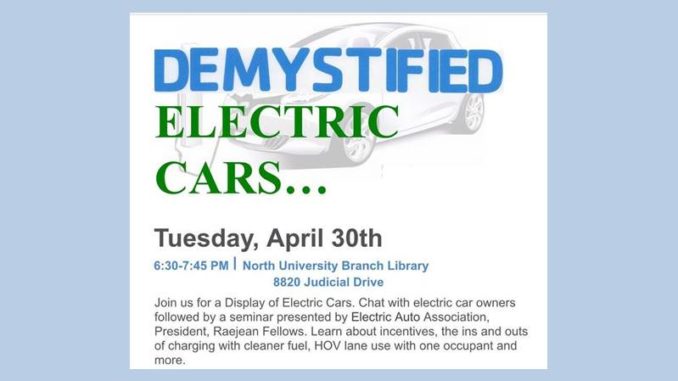 The Electric Auto Association invites the public to attend the Electric Car Display and Library Talk ‪on Tuesday, April 30 from 6:30 to 7:45‬ PM, at the North University Branch Library, 8820 Judicial Drive, San Diego, CA 92122. Chat with electric car owners followed by a seminar presented by the Electric Auto Association's president Raejean Fellows. Learn about incentives, the ins and outs of charging with cleaner fuel, HOV lane use with one occupant and more. Join us to learn about how to enjoy the fun of driving electric. The event is free and open to the public.
To register to attend, share your experience and/or show your EV, help organizers plan the event, or contact the event organizers, visit https://driveelectricearthday.org/event.php?eventid=1815
For more information, contact ‪President@ElectricAuto.org‬.