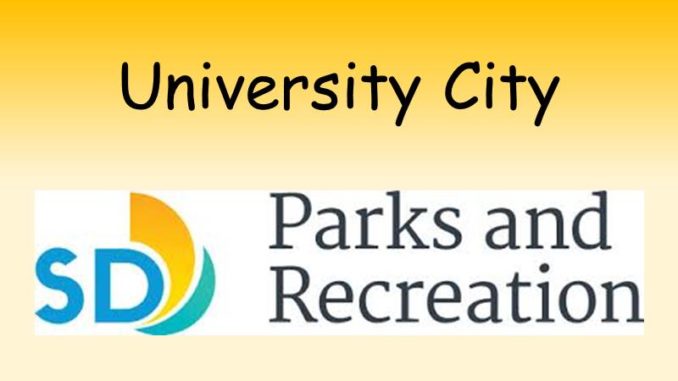 The City of San Diego has 57 Recreation Centers, 13 Pools, 7 Skate Parks and many other recreational facilities that serve residents and visitors of all ages, abilities and income levels. University City has three Recreation Centers (Doyle, Nobel and Standley), one Pool (Swanson) and many neighborhood parks and athletic fields. Take a look at some of the activities taking place this month in University City:
The Standley Park Recreation Council SPRC 501(c)(3) is exploring the opportunity to merge with Nobel and Doyle recreation councils to form one council for University City parks. Please join the discussion at the next Council meeting, Thursday, May 23, at 6 PM at the Standley Recreation Center, 3585 Governor Drive.
Nicole Ann Otjens recently assumed the position of Recreation Center Director at Nobel. Here she's pictured at the Nobel Spring Egg Hunt. With over 18 years at San Diego Parks and Recreation, Nicole brings a wealth of experience and ideas to Nobel. She's working with staff to create more youth programming including a kids summer camp. For more information about programming at Nobel, visit the City's website at sandiego.gov and search on Nobel Recreation Center & Athletic Field.
Trash and recycle containers are on order for several area parks including UC Village, UC Gardens, and Villa La Jolla parks. The goal is to have both recycle and trash containers in every park.
The trails and canyon behind Standley Park are scheduled to be cleaned in the next few months.
There has been an increase in vandalism at Standley Park; area residents and park users are urged report vandalism to park staff and to call the police if they see any sign of vandalism activity.
At Swanson Pool, water polo and swim team activities are well underway.
At the request of the CIP committee of the UCPG planning group, several capital improvement project ideas were submitted including upgraded lighting, bike trails, playground shade structures, and parking lot repairs/upgrades at several University City parks.
UC Del Sol softball, UCLL little league, floor hockey, cricket, Mesa Soccer and other user groups all report successful seasons this spring.
Summer programs at the recreation centers will be starting soon. For more information, visit the City's website at SanDiego.gov and search on the individual recreation center.
Movies in the Park begin soon with University City Little League (UCLL) hosting a Movie in the Park at dusk on June 1 at Standley Park as the culmination of UCLL Closing Day festivities. All are invited to join UCLL for Everyone's Hero, an animated film. Additional Movies in the Park are planned this summer at University City area parks including Doyle, Nobel, Standley, and UC Gardens.
 The next meeting of the UC Celebration 4th of July planning committee is June 5 from 7 – 8 PM at Standley Recreation Center. Please mark your calendars!  Please join us; we are only 2 months away and everything is coming together.
Save the date for the UC 4th of July Celebration (Thursday, July 4), the Summer Concerts (Sunday evenings beginning July 14), and the Banana Split Ice Cream Social, scheduled for Saturday, August 3.
The Standley/University City Parks Council 501(c)(3) meets on the fourth Thursday, May 23, at 6 PM at the Standley Recreation Center. The Recreation Advisory Group meets the same day at 7 PM. All are welcome.
For more information, contact the Recreation Centers; or visit the Parks and Recreation Center homepage at https://www.sandiego.gov/park-and-recreation/centers