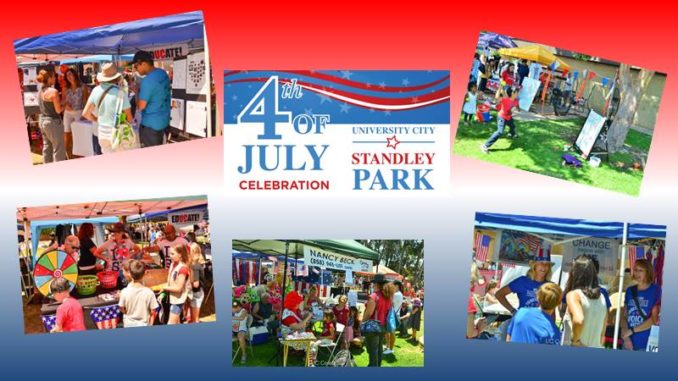 Celebrating 30 years!! Do you and your kids enjoy the family fun of the UC Celebration? Would you like to meet some of your neighbors who are volunteering to make a 30 year UC summer tradition an even bigger success? Do you want to make a difference in our community? Then let's create some memories and Celebrate together. The next meeting for the UC 4th of July Celebration will be on Wednesday, June 5, from 7-8 PM at Standley Recreation Center, 3585 Governor Drive in University City. All are welcome.
Help make this 30th anniversay Celebration the best ever! Here's how you can help:
Booth Rental – we need groups and small (or large) businesses to be vendors. Food, arts & crafts, clothing, activities, your family, clubs. We need lots of booths to create our Celebration festival atmosphere. Download the booth application on the UC Celebration website at www.uccelebration.com.
Volunteers – we need lots, sign up on the website at www.uccelebration.com.
Sponsors & Donations – gift certificates, themed baskets, vacations, anything you yourself would like to win, we will accept. We also need event sponsors – you'll get special recognition and a free booth! Information at www.uccelebration.com.
It takes the UC Village to pull off the Celebration, so whatever you can do to contribute, please do. The next UC Celebration Committee meeting is Wednesday, June 5 at 7 PM at Standley Rec Center. Make sure to check out the website for more and updated information – www.uccelebration.com, and like the Facebook event page @UCCelebration. Be there UC!
For more information: