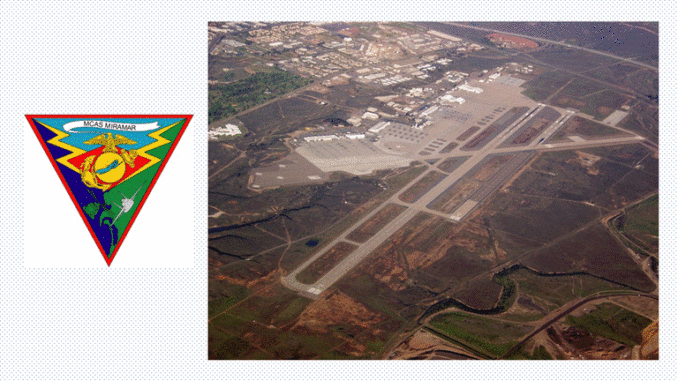 As compiled by Diane Ahern, UCCA's representative to the Miramar Community Leaders Forum, two quick updates from MCAS Miramar and the Community Plans and Liaison Office that impact the University City Community:
Per MCAS Miramar via their Twitter Feed @MCASMiramarCA: Beginning the morning of Thursday, June 6, our local community members can expect increased rotary wing traffic for a training exercise. Our tenant units continue to train today to stand ready to answer the nation's call tomorrow. [According to Miramar Media sources, this training exercise is expected to be confined to Thursday, June 6.]
Also on Thursday, June 6, Miramar's Community Plans and Liaison Office is hosting an invitation-only Community Leaders Forum for community representatives of areas surrounding MCAS Miramar. Commanding Officer Colonel Dockery is providing a Community Operations Brief. Representing the University City area are Chris Nielsen and Andy Wiese from University Community Planning Group (UCPG), Ron Belanger and Pia Mantovani-Sud from Citizens Advocating Safe Aviation (CASA), and Barry Bernstein and Diane Ahern from University City Community Association (UCCA). Community leaders will provide information to the University City community through UCCA's websites, at upcoming UCPG and UCCA meetings, and in the July print University City News newsletter.
For more information about MCAS Miramar, including Operations and Contacts, visit https://www.universitycitynews.org/mcas-miramar-operations-information-and-contacts/
For related posts from UCCA, visit https://www.universitycitynews.org/category/miramar/