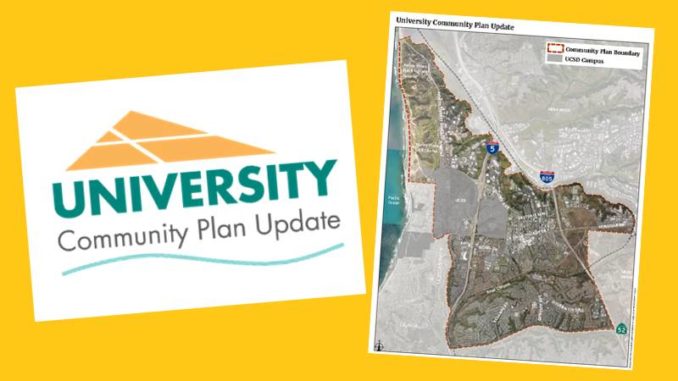 Some of the ideas proposed so far to shape the future of University City include protected bike lanes on Governor, library expansion, limited high-rise and high density development east of Genesee, roundabouts at select intersections, a pedestrian walkover on Genesee at Governor, parks at the ends of Regents Road prohibiting a pedestrian/bike crossover, and a pedestrian/bike crossover at Rose Canyon and Regents Road with access for emergency vehicles only.
The City of San Diego Planning Department is updating the University City Community Plan. Anyone who lives, works, or owns a business in University City is invited to attend the planning group and subcommittee meetings and to provide input. There is a two minute non-agenda public comment period at the beginning of every meeting. Some residents have expressed that they would like to see a better balance between preservation of our canyons and preservation of an alternate evacuation route as well as a walking/biking path over the canyon. Whatever your ideas for the future of University City, UCCA urges you to attend this planning group subcommittee meeting and participate in the discussion. This is your chance to make your voice heard.
The University Community Plan Update Sub-Committee [CPUS] meeting is Tuesday, June 18 , 2019 from 6 to 9 PM at a new location; Scripps Health Campus Point C-Annex, 10010 Campus Point Drive, San Diego, CA 92121. Ample free parking behind the building. Sub-Committee meetings are open to the public and all University City residents, students, and workers are encouraged to attend.
UNIVERSITY COMMUNITY PLAN UPDATE SUBCOMMITTEE, Tuesday, June 18, 2019, PUBLIC NOTICE AND AGENDA
*NOTE: Order of agenda items may be modified at the beginning of the meeting at the discretion of the subcommittee chair.
6:00 CALL TO ORDER / ROLL CALL BY CHAIR: Andy Wiese
APPROVAL OF THE MINUTES – May 21, 2019
NON-AGENDA PUBLIC COMMENT: Two minutes per speaker.
6:20 Item 1 INFO ITEM – Recap of progress to date
6:25 Item 2 ACTION ITEM – Draft CPU Vision Statement & Guiding Principles – Continue discussion from April CPUS on the draft Community Plan Update Vision Statement & Guiding Principles for consideration and tentative approval. The statement and principles are based upon public input received from the Kick-Off Open House, public comments, and the 03-19-19 CPUS meeting.
7:35 Item 3 INFO ITEM – UC San Diego (UCSD) 2018 Long Range Development Plan (LRDP) – Presentation by Robert Clossin, Director of Physical & Community Planning, UC San Diego regarding current and planned campus development and mobility improvements.
8:15 Item 4 INFO ITEM – City of San Diego Mobility Strategies – Presentation by Claudia Brizuela, Associate Traffic Engineer, Planning Department, providing an overview of City of San Diego Mobility Planning and the process to be completed for the University Community Plan Update Mobility Assessment.
8:55 Item 5 NEXT STEPS – Next Meeting July 16, 2019 – Scripps Health Campus Point C-Annex, 10010 Campus Point Drive, San Diego, CA 92121
NEW WEBSITE! – www.planuniversity.org (all info posted to city UCPU website is still available)
9:00 ADJOURNMENT
Sub-Committee Meetings are open to the public. Agendas and meeting summaries can be found at: https://www.sandiego.gov/planning/community/cpu/university/subcommittee-university-documents
For further information regarding agenda items or sub-committee meetings, please contact: Dan Monroe at (619) 236-5529 or DMMonroe@sandiego.gov