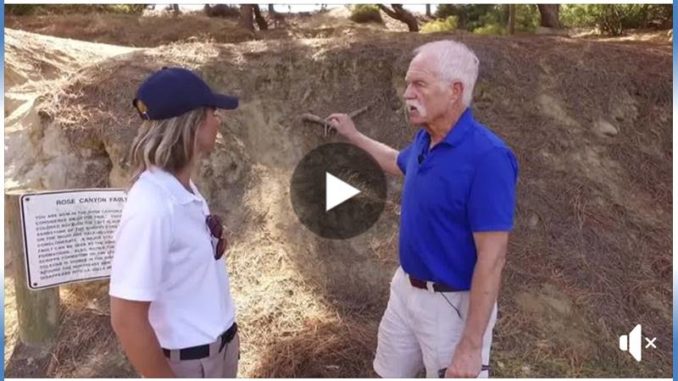 "The Big One" on the San Andreas Fault is something that all of California should be ready for. Surprisingly enough, San Diego fares well in the damage models for such an earthquake. But there's a lesser known fault running through the heart of the city, and it has the attention of emergency planners. Dr. Pat Abbott, a geology professor at San Diego State University, shows us where you can see signs of the Rose Canyon Fault, and how dangerous it could be. First published by San Diego County News in 2016, this video (embedded below) and the Rose Canyon Fault Tour are as timely as ever.
Take the Rose Canyon Fault Tour to discover four places where the Rose Canyon Fault meets the surface:
Fault Line Park – 1433 Island Ave, San Diego, CA 92101
1st and Market – 101 Market St #100, San Diego, CA 92101
Tecolote Youth Baseball – 4675 Tecolote Rd, San Diego, CA 92110
Coast Walk Trail

– Coast Walk Trail, San Diego, CA 92037
---
To get yourself prepared for such a disaster, visit https://www.readysandiego.org/ for tips and links to preparedness resources.
For more from San Diego County News, visit https://www.countynewscenter.com/tour-the-rose-canyon-fault-san-diegos-biggest-earthquake-threat/