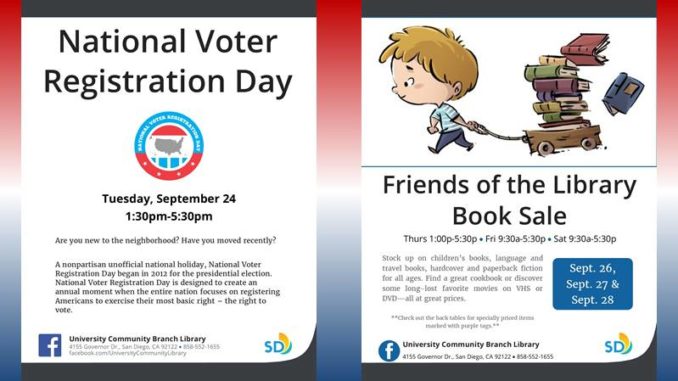 Have you changed your name or address? Or switched political parties and want to vote in the March 3, 2020, Presidential Primary election? Never registered? Will you be 18 years old by March 3, 2020? Not sure if you are registered? You can update your voter registration information or register to vote for the first time at the University Community Library on National Voter Registration Day, Tuesday, September 24, from 1:30 PM to 5:30 PM, 4155 Governor Drive, University City 92122.
Be sure to bring your California driver's license or ID. Forms will be available in English/Spanish, Tagalog, Chinese, Korean and Vietnamese. You'll receive a postcard in the mail confirming your registration about four weeks later.
Not sure if you are registered? You may check your voter registration status to make sure you are eligible to vote in the next election. You must be registered to vote at least 15 days before an election.
In other library news, check out the Friends of the Library Book Sale Thursday through Saturday, September 26 through 28. For more library programming news, visit https://www.universitycitynews.org/category/library/