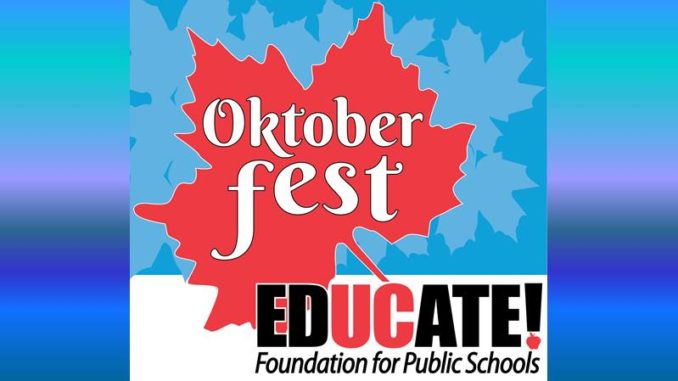 Mark your calendars now for the 11th Annual EdUCate! Oktoberfest on October 12, 1 to 6 PM at Standley Park, 3585 Governor Drive. Plan for the famous beer and wine garden, a variety of food offerings, music, booths, loads of games for the kids and more. The University City event has become an international-German festival along with lots of fun raising money for the five UC public schools.
When you donate to the Dollar-a-Day ($180) program, or more, you will receive unlimited pours for two in the Oktoberfest beer garden. The EdUCate! Foundation is a non-profit organization dedicated to supporting the five University City public schools, University City High, Standley Middle, and Curie, Doyle and Spreckels Elementary schools. Since 1993, EdUCate! has funded over $1,900,000 in teacher classroom grants, principal school-wide grants, multi-school programs like the EdUCate! Math Academy and Jr Achievement BizTown, technology improvements and scholarships.
Thanks goes out to the current 2019 Major Sponsors: Nancy Beck, Century 21 Award; Valerie Upham Realtor, Compass; Steve & Terri Gray- grayloanteam.com; Coldwell Banker UC; Katie Dunahoo, Coldwell Banker; Regency Centers-Costa Verde; Caryl Lees, Century 21 Award; and the University City Community Association.
For more information about how you can participate this year, go to https://www.uc-educate.org/events/oktoberfest/