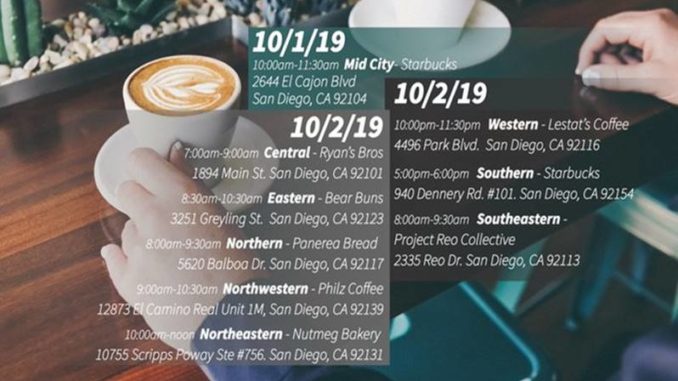 Each of the nine San Diego Police Department (SDPD) divisions will have officers at select coffee shops in the San Diego area this week. SDPD would love for you to stop by and to say hi. No agenda or speeches, just a chance to ask questions, voice concerns, and get to know the officers in your neighborhood. Northern Division will be at Panera Bread at 5620 Balboa Avenue in Clairemont on Wednesday morning from 8 to 9:30 AM. Let's go #UniversityCity! Let's go #Clairemont!
For related posts, visit https://www.universitycitynews.org/category/neighborhood-watch/
For more information about Coffee with a Cop, please visit the SDPD page on the SanDiego.gov website at https://www.sandiego.gov/police; or refer to attached images for locations and times.