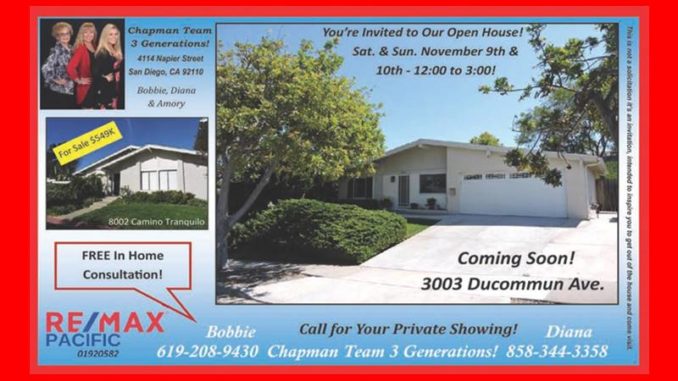 My Grandma, Bobbie Chapman, started us in the real estate world. She has been selling homes in San Diego for over 32 years. Bobbie started our business by hitting the ground running in University City and Clairemont. Grandma is our senior citizen specialist. We help families who are downsizing take truckloads full of donations to Goodwill.
My Mom is Diana Chapman. She is a real go-getter. If you are looking to buy a home, she is your gal. With an amazing work ethic, the best negotiation skills, in a multiple-offer situation, Diana has gotten her buyer's offer accepted even when it was less money than the others. She specializes in 1st and 2nd time home buyers.
My name is Amory and I am the 3rd generation in our real estate team. I have learned everything I can from my Grandma and my Mom. My mom and grandparents put me through college at SDSU. While I was studying for finals I studied for the real estate exam. I joined the team in 2005 and quickly became a short sale and foreclosure specialist. I take care of the media and our internet presence.
Our team is family. We work hard and we have fun doing it. We try hard to live up to our catch phrase: Professional Service with a Personal Touch. Thinking of selling your home? We offer expert knowledge and a team approach. Visit our website at www.ChapmanTeam3.com; or call us today. And check out our ads in the November University City News monthly newsletter. 
---
This is a Sponsored Post and the content was supplied by Amory Chapman of the Chapman Team. For more information about sponsored posts and newsletter advertising, visit https://www.universitycitynews.org/advertising-rates/
For additional information about Sponsored Posts and the three ways that UCCA can help promote your business, visit https://www.universitycitynews.org/2017/09/15/promote-your-business-when-you-advertise-in-the-university-city-newsletter/
---