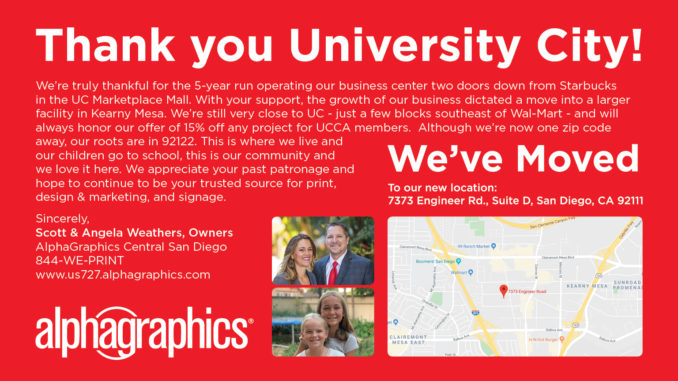 Thank you University City! We're truly thankful for the 5-year run operating our business center two doors down from Starbucks in the UC Marketplace on Governor Drive. With your support, the growth of our business dictated a move into a larger facility in Kearny Mesa. We're still very close to University City – just a few blocks southeast of Walmart – and we will always honor our offer of 15% off any project for UCCA members.
Although we're now one zip code away, our roots are in 92122. University City is where we live and our children go to school, this is our community and we love it here. We appreciate your past patronage and hope to continue to be your trusted source for print, design & marketing, and signage.
We are Scott & Angela Weathers, Owners AlphaGraphics Central San Diego. And our new business location is 7373 Engineer Road, Suite D, San Diego (Kearny Mesa), San Diego, CA 92111. Please call us at 844-WE-PRINT (844-937-7468) and visit our website at www.us727.alphagraphics.com.
---
This is a Sponsored Post and the content was supplied by Scott Weathers at AlphaGraphics. For more information about sponsored posts and newsletter advertising, visit https://www.universitycitynews.org/advertising-rates/
For additional information about Sponsored Posts and the three ways that UCCA can help promote your business, visit https://www.universitycitynews.org/2017/09/15/promote-your-business-when-you-advertise-in-the-university-city-newsletter/
---