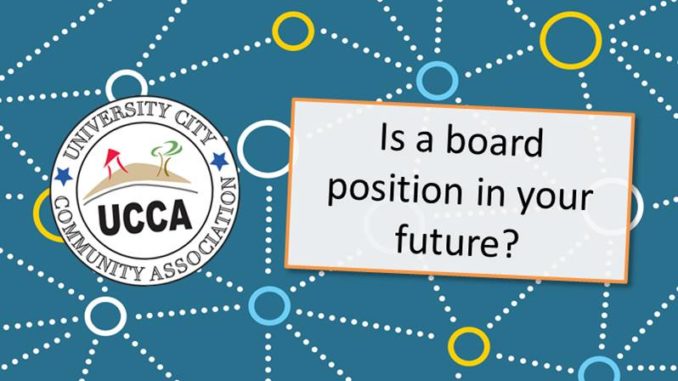 The election of UCCA officers to a two year term will take place at the regularly scheduled University City Community Association (UCCA) meeting on Wednesday, November 13, 2019, at the Community Library at 4155 Governor Drive. University City Community Association has four elected officer positions: President, Vice President, Treasurer and Secretary.
The candidates: There are currently four announced candidates:
President – the incumbent Barry Bernstein
Vice President – the incumbent Mack Langston
Secretary – nominee Jim Beshears
Treasurer – the incumbent Don Hotz
Self-nominations: In order to run for UCCA office, you must be a member in good standing and have attended at least two UCCA meetings during this calendar year. If you are interested in running for office and making a difference in University City, please contact us through our email address at UniversityCityNews@gmail.com. And please prepare to announce your candidacy at the onset of the meeting on November 13.
The election: In order to vote in the election, the voter must be a UCCA member in good standing. Members may vote beginning at 5:30 PM on election day. At the onset of the meeting (approximately 6 PM), the current president will ask for any new eligible candidates to announce their candidacy. If none, then the current board will make a motion to elect the 2020-2022 slate of officers by acclamation. If there are new eligible candidates, then elections will continue until 7:30 PM. 
Special guest: In addition to standard agenda items such as updates from elected and community leaders and the police and fire departments, tonight's special guest will be Councilmember Barbara Bry. She is expected at 7:00 PM. For more, visit https://www.universitycitynews.org/2019/11/05/save-the-date-councilmember-barbara-bry-to-visit-university-city-on-wednesday-november-13/