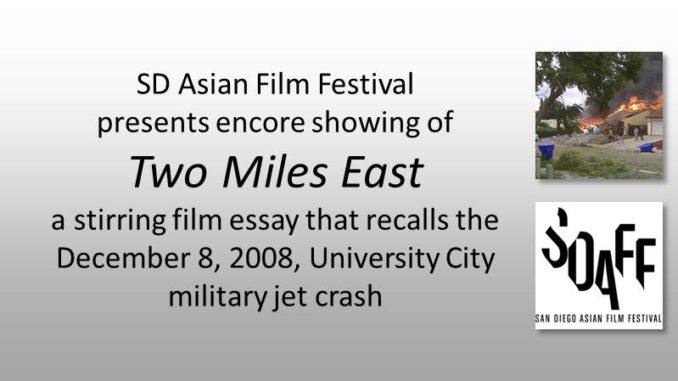 From Asian Film Festival: San Diego has been called many things – including a paradise. It's also a refugee city, a cluster of neighborhoods, a militarized zone, a border town. And Asian American. This collection of four short documentaries, commissioned on the occasion of the 20th anniversary of the San Diego Asian Film Festival, maps many such San Diego's – across ethnicity, geography and history. At the same time, they hold on to some notion of paradise, however illusory: a haven from war, the dreams of an immigrant, precious teenage reminiscences, solace in the afterlife, and spaces for creative expression.
At the helm are four emerging cinematic voices who grew up in San Diego, have studied here, or who have once called it home.
Norbert Shieh's stirring film essay *Two Miles East* recalls a 2008 University City plane crash that cast a somber shadow over a military city.
Quyên Nguyen-Le's The Morning Passing on El Cajón Boulevard introduces us to the City Heights mortuary workers who help refugee families grieve.
Joseph Mangat's rousing observational piece Bidyoke thrusts us into the electric immigrant space of a karaoke-restaurant in National City.
Lastly, in Reunion '99, R.J. Lozada interviews former classmates at his 20th high school reunion in the South Bay, and finds that memories, including his own, are not always reliable.
---
The film essay Two Miles East was first shown on Thursday, November 7, as part of the SD Asian Film Festival's "The Paradise We Are Looking For" presentation. It will be shown again on Tuesday, November 12, 2019, in Mission Valley at Ultrastar Cinemas Mission Valley. Information and tickets available at https://sdaff.org/2019/movies/paradise-we-are-looking-for/
The Paradise We are Looking For – Sneak Peak #2: YouTube link to preview with scenes from all four films in this series; this is not the entire film but contains scenes from Two Miles East: https://www.youtube.com/watch?v=hS37s65e4bQ
For information from UCCA related to the December 8, 2008, military plane crash and 10 year Memorial and Tree Dedication, visit https://www.universitycitynews.org/memorial-and-tree-dedication-to-honor-victims-of-fighter-jet-crash/
Featured image photo courtesy of R. Belanger.