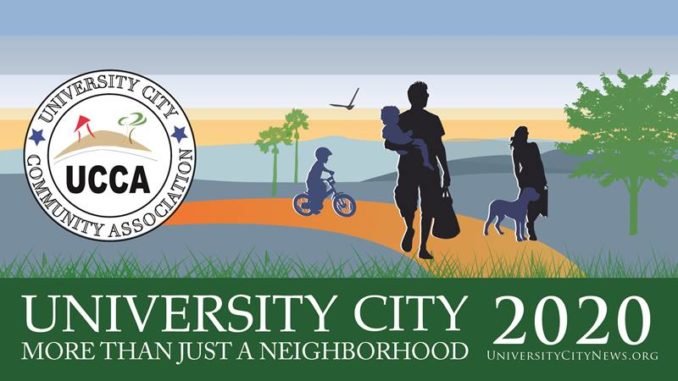 Looking back on 2019: UCCA takes a look back at some of the notable events and stories affecting the University City community in 2019. Do you remember the City Clerk released a series of "Flashback to 1970" city street videos (including Governor, Genesee and Regents) in January? When UTC Mall began enforcing its plan for "protected parking" in January? When UC Talks podcasts debuted in February? When University City was "blooming" with painted lady butterflies in March?
Do you remember when the City "broke ground" on the new Fire Station 50 on Shoreline Drive and when Tom Ventimiglia and Greg Zinser collaborated on their special song about University City "More than Just a Neighborhood" in April? The return of the Taste of the Triangle in May? And the Community Garage Sale in June? And of course, the 4th of July UC Celebration in July ? The Grand Opening of the Regents Road West End homes in July?  The Summer Concerts in July and August?
The Fall was a busy time in University City also. Do you remember the announcement of a new Fire Safe Council and the MCAS Miramar Air Show in September? Oktoberfest and the Halloween Carnival in October? The announcement of a new University City Parks Council in October? Do you remember when Zachary Patterson, the first student board member for the San Diego Unified School District, was interviewed for UC Talks in November? And to help ring in the holiday season, the annual Dinner with Santa, Christmas Tree and Chanukah Menorah Lightings in December?
University City residents had many reasons to celebrate as well as faced some challenges in 2019. University City Community Association played a vital role in keeping our community informed through its newsletters, websites, and monthly meetings. For reference, please visit UCCA's University City News site at https://www.universitycitynews.org/
What's in store for 2020? UCCA and University City are moving forward into the new year with great anticipation. In early 2020, MCAS Miramar will debut the single engine F-35 fighter jet to replace the aging (and retiring) fleet of F-18 aircraft. The primary elections take place in March for local, state and federal offices including mayor and council district.
The Community Plan update continues under the leadership of the UC Planning Group, the UCSD innovation center begins to take shape, and the Mid-Coast Trolley project enters into its final phases with full operation expected in 2021. In the second half of the year, the San Diego Unified School District (SDUSD) is scheduled to begin construction of its Imagine UC 2020 project on school property adjacent to Standley Park including building a new competition-sized pool, locker rooms, and field upgrades. The need to use a REAL ID to fly domestically and to enter secure federal facilities goes into effect in October 2020. And the year ends with the general presidential election in November 2020.
Thanks to all the community volunteers who contributed to the success of 2019. Your UCCA Board and our UCCA members are working together to live up to our motto, "University City, more than just a neighborhood".