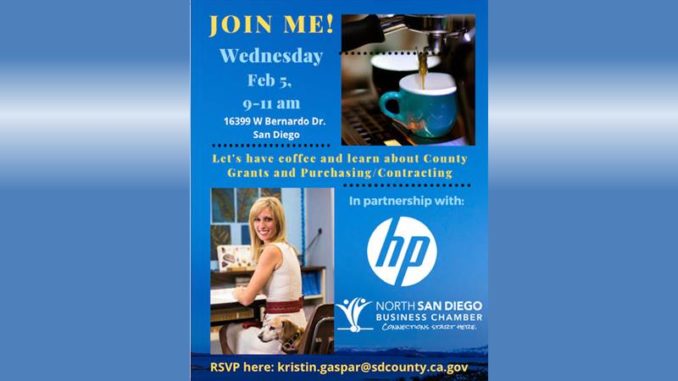 The County Board of Supervisors provides grant programs for eligible organizations in San Diego. Local groups such as UCCA, EdUCate, and FORC have been past recipients of grant funds. On February 5, 2020, join Supervisor Kristin Gaspar for coffee and to learn about County grant programs and Purchasing/Contracting with the County. The Coffee will be held in Rancho Bernardo from 9 AM to 11 AM.
This coffee series is a great way for the public to get to know Supervisor Gaspar and learn the best practices of how to do business with the County. Also in attendance will be the County's Director of Purchasing/Contracting and a staff member from the Office of Financial Planning.
For details and to register, please contact Corrine Busta at corrine.busta@sdcounty.ca.gov.
For related posts from University City News, visit https://www.universitycitynews.org/category/district-3/