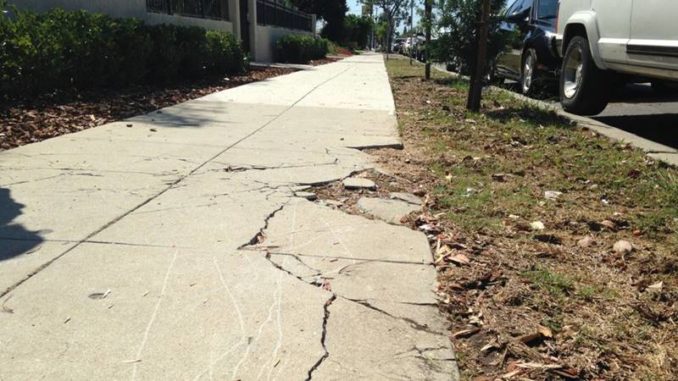 With Permit Fees as High as $2,000 for Repairs, City Announces Fee Holiday to Encourage Private Investment in Neighborhood Sidewalks: To spur community investment and make neighborhoods more walkable, Mayor Kevin L. Faulconer has announced that beginning this spring the City of San Diego will offer its first fee holiday for sidewalk repairs with participating homeowners expected to save as much as $2,000.
The City's more than 5,000 miles of public sidewalks play a critical role in the region's mobility network. While the City is responsible for the maintenance of sidewalk damage caused by vehicle accidents, water main breaks, grade subsidence and trees within the right-of-way, homeowners are responsible for the normal wear and tear of the sidewalk under state law.
The City already offers a 50/50 cost sharing program to residents looking to support the City's mission and prioritize the safety and effectiveness of the sidewalk network. This program typically addresses approximately 50 sidewalk locations annually. Although permit fees vary per location, the average permit can be thousands of dollars in out-of-pocket costs for property owners.
An estimated average of over $2,000 in permit fees will be saved on each standard private sidewalk project, allowing the City and residents to partner in reducing the overall trip and fall hazards while relieving both the City and private property owners alike from increased liability. The sidewalk repair permit fee holiday will remain in place through calendar year 2020.
For more information, visit the City of San Diego Mayor News Release page at https://www.sandiego.gov/mayor/news/releases2020
For related posts from UCCA, visit https://www.universitycitynews.org/category/transportation/