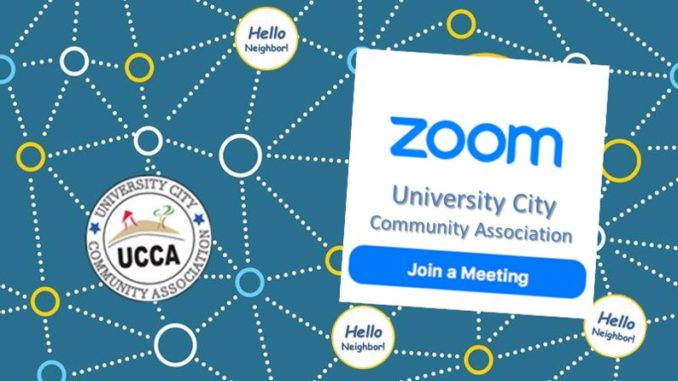 From UCCA President Barry Bernstein: The University City Community Association (UCCA) Board wishes wellness to all of you and a thank you for continuing to be diligent as you go "public" only when necessary. We will be convening a virtual meeting this Wednesday, May 13th at 6:00. I encourage you to attend this ZOOM meeting. Please refer to the Zoom helpful hints* below.
The Zoom meeting number is 4690121178 or you can just click on the following link at approximately 5:50 PM on May 13 to join the meeting : https://us02web.zoom.us/j/4690121178
TENTATIVE AGENDA, UCCA Meeting via Zoom, Wednesday, May 13, 2020, 6 PM.
5:50-Welcome lobby/waiting room (music/photos while you wait)
6:00-Meeting called to order by president Barry Bernstein
Approval of April minutes/Approval of tonight's agenda-VOTE
6:05- Brief comments and explanation of tonight's meeting format
6:10- Councilmember Barbara Bry provides a COVID-19 update; City budget timeline
6:15-6:30 Public Comments—-YOUR ideas/thoughts/concerns
6:30.- OUR COMMUNITY LEADERS SPEAK OUT
Mark Salata- EdUCate! president-What's next for EdUCate!?
Randall Tonini-4th of July UC Celebration Chairperson … yes, no or maybe?
Ruth DeSantis- UCCF – the lawsuit settlement, "owlet" update
Chris Nielsen- UCPG chair-Costa Verde EIR recommendations
John Lee Evans-"ImagineUC 2020" update on construction plans Standley Park and Pool
7:00–7:20 Legislative reps-What's happening at the Federal/State/County  and City that is important to know (3 minute time limit)
7:20- Treasurer's report-filed electronically (vote) Don Hotz
Membership- Hallie Burch
7:30-7:45 COMMITTEE REPORTS
BANNERS/GRANTS/C.A.S.A.- DIANE AHERN
NEIGHBORHOOD WATCH- BARBARA GELLMAN
NEWSLETTER COMM. *RECOMMENDATION (VOTE) -RELATED TO JUNE DISTRIBUTION- DON HOTZ
STVR- MACK LANGSTON
OTHER
Other…..
ADJOURNMENT
Print  copies of the May issue are available thru this Sunday at the library parking lot back door and next to Sprouts by the patio. Also available at the Free Little Libraries. View and download a PDF version of the newsletter at https://www.universitycitynews.org/ucca-newsletter-archives/
Thank you for participating/listening. Stay well. Together as one we will overcome! Remember, University City is "more than just a neighborhood". Sincerely, Barry Bernstein, UCCA President
---
* Zoom helpful hints from Don Hotz, UCCA Treasurer and Zoom meeting host: 
Meeting participants will initially be admitted into the meeting "waiting room". I will move participants from there to the meeting itself. Participants will be muted on entry, and will need to "raise their hands" to be recognized to speak. Thanks for your courtesy!
Downloading the Zoom app to your device seems to give the best results. You may register for free and minimize the amount of follow-up email by choosing your email notification preferences.
The Participants button is at the bottom center of the Zoom video screen. Use this button to get both a list of participants and to expose the "Raise Hands" feature at the bottom.
Leave your device muted during the meeting; this helps keep extraneous background sounds from interfering with the meeting.
I will enable the meeting about 5:45 PM. For those who have not used Zoom before in a formal meeting setting, I will be available to help you test your meeting connection.