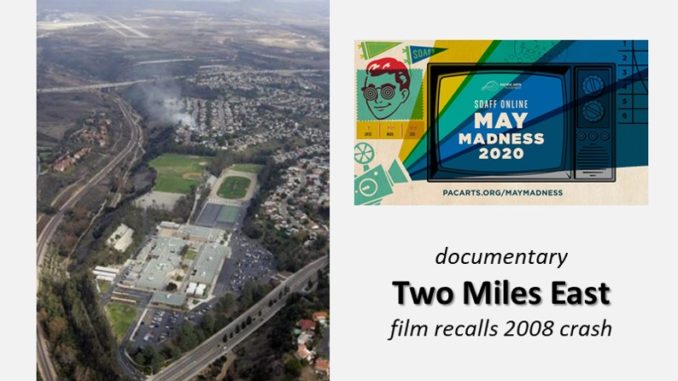 Pacific Arts Movement (PacArts) closes out its May Madness online Film Festival with an encore of the film "The Paradise We Are Looking For", a collection of four short stories about San Diego from four emerging cinematic voices who grew up in San Diego, have studied here, or who have once called it home.
Two Miles East: Norbert Shieh's stirring film essay recalls a 2008 University City plane crash that cast a somber shadow over a military city.
The Morning Passing on El Cajón Boulevard: Quyên Nguyen-Le's introduces us to the City Heights mortuary workers who help refugee families grieve.
Bidyoke: Joseph Mangat's rousing observational piece thrusts us into the electric immigrant space of a karaoke-restaurant in National City.
Reunion '99: R.J. Lozada interviews former classmates at his 20th high school reunion in the South Bay, and finds that memories, including his own, are not always reliable.
The first story in the series, "Two Miles East", revisits the 2008 F/A-18 jet crash in University City to contemplate the civilian relationship with the military and re-examine the suburban dream. When the film debuted in late 2019, the Voice of San Diego described it as quiet and somber storytelling; a patchwork vignettes of press conferences, the communities affected by the loss, cockpit recordings and the vast horizon over the ocean seen from a re-enactment plane. The documentary includes scenes of University City, community reactions and of the four jacaranda trees dedicated on December 8, 2018, the 10th anniversary of the crash, at the community memorial and tree dedication held at University Village Park on Florey and Cather.
---