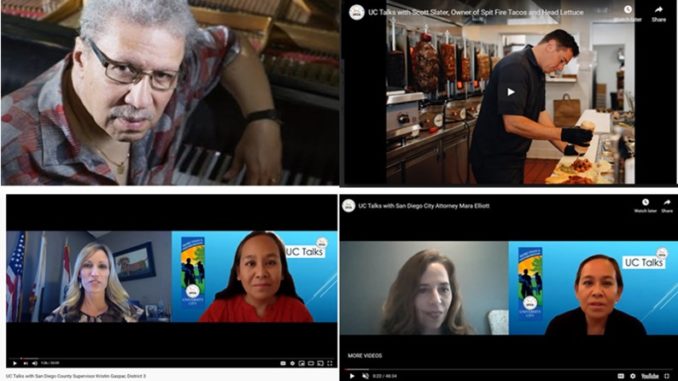 It seems as though everyone is using Zoom and so is UC Talks! Podcast host Jemma Samala chats with local leaders and neighbors in University City to dig deeper into some of the issues and opportunities facing University City and the surrounding area. Recent podcasts recorded on Zoom and available on both YouTube and SoundCloud include:
San Diego County District 3 Supervisor Kristin Gaspar talks about the role of the county during the COVID-19 pandemic outbreak. Supervisor Gaspar provides information on where to turn to for your specific concerns and how the community can also help each other in this time of need. Make sure to have a pen and paper handy to write down where to turn go for resources.
City Attorney Mara Elliott talks about how the City Attorney's office is run, and the unique environment during the COVID-19 pandemic. Elliott points out the importance of her office in continuing pursuing restraining orders when domestic violence victims are at home, in times of stress when guns are at home, and lower reporting of child abuse when children are at home. Additionally, during any crisis, her office sees an increase in price gouging incidents and false ads – false treatments and testing kits these days. They touch upon many issues that the San Diego City Attorney's office must handle.
Restaurant owner (SpitFire Tacos and Head Lettuce) Scott Slater talks about how he and Thai Slater have been able to keep their restaurant businesses going by donating meals to front line healthcare workers and families in need through their San Diego Ready Meals program. Learn more about their volunteer efforts and their delicious food when you tune into the podcast.
Pulitzer Prize winner for Music, Anthony Davis, talks about his winning opera "The Central Park Five" and the subject tone of social injustice in his operas. Called the Dean of African-American opera composers, Davis is a music professor at UCSD. He and his wife Cynthia, an opera singer and teacher, have lived in University City with their son Jonah for about two decades. Listen to the podcast on how Davis almost became a member of the Grateful Dead.
---
No special software is needed to listen; just click on the link, adjust the volume on your device, and click the play button.
To submit an idea for an upcoming UC Talks podcast, please use the 'contact us' link at https://www.universitycitynews.org/contact-us-or-volunteer-in-uc/