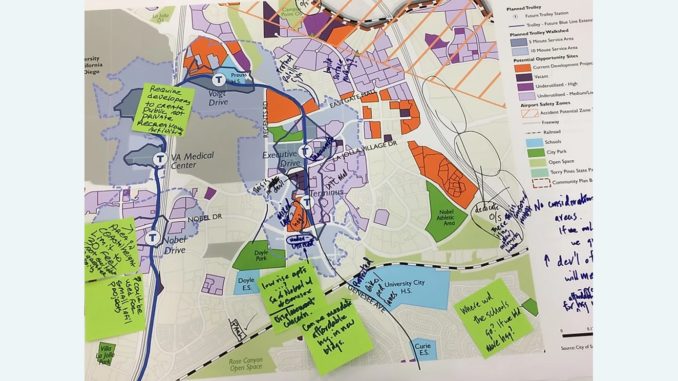 The City of San Diego Planning Department and the Community Plan Update Subcommittee (CPUS) are hosting a public Zoom Webinar on Tuesday, June 16, 2020, from 6 to 7:30 PM. The public is invited to participate.
Agenda items include:
Community Plan Update Project Status
Community Outreach Feedback – Parks & Recreation
Existing Community & Neighborhood Parks
Future Park & Recreation Opportunities
You must register in advance if you wish to attend in any capacity, including viewing, listening, and possibly speaking. The City will be using Zoom Webinar software to conduct the meeting. Register at https://zoom.us/webinar/register/7515918991404/WN_GS8Z8e9qRO2ofM6CawcyTQ
For meeting materials and to download the agenda in PDF form, visit https://www.planuniversity.org/meetings
Illustration from Community Plan Atlas; available for viewing and download at https://www.planuniversity.org/
---
Editor's note: This event will use Zoom Webinar. The Zoom Meeting and Zoom Webinar platforms offer similar features and functionality but have some key differences.
Meetings are designed to be a collaborative event with all participants being able to screen share, turn on their video and audio, and see who else is in attendance.
Webinars are designed to function as a virtual lecture hall or auditorium. Webinars are ideal for large audiences or events that are open to the public. Typically, webinar attendees do not interact with one another. The typical webinar has one or a few people speaking to an audience.
Webinars are designed so that the host and designated panelists can share their video, audio and screen. Attendees join in listen-only mode. They have the ability to interact via Q&A, chat, and answering polling questions. Attendees must use raise hand function. Only the host and panelists can mute/unmute their own audio.  The host can unmute one or more attendees.
Webinars, with its more controlled settings, can provide more security for a public meeting.
For more information about the differences between Zoom Meeting and Zoom Webinar, please visit https://support.zoom.us/hc/en-us/articles/115005474943-Meeting-and-Webinar-Comparison