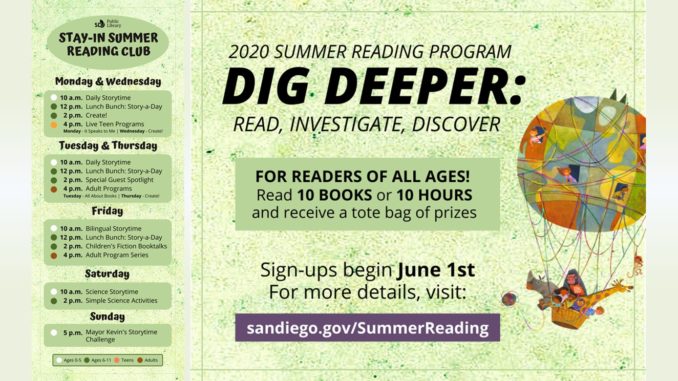 University City — Read, Investigate, and Discover this summer and join the Summer Reading Program: "Dig Deeper!" San Diego Residents of all ages are encouraged to sign up for this virtual event to dig below the surface and discover new things! Read 10 books or for 10 hours to collect prizes and complete fun at-home activities to earn digital badges. Sign up began June 1st and the program will last through August 31st. For more information, visit https://www.sandiego.gov/summerreading
Is one of your goals for the summer to read more? San Diego Public Library (SDPL) Stay-In Summer Reading Club makes it easy with activities for all age groups 7 days a week, every week! Visit their Facebook page at https://www.facebook.com/groups/SDPLstorytime/ to see what's in store next!
San Diego Public Library's Pride 2020 has launched and it's virtual! From June 16- July 17, SDPL Pride will host events like PRIDE Storytime, Ask a Queer Librarian, and Lit Cafe on their Facebook page at https://www.facebook.com/SDPLpride/
E-Books are still available for checkout via CloudLibrary. If you are looking for some inspiration for your next read, check out the staff-curated reading lists at
https://sandiego.bibliocommons.com/user_profile/546674737
All holds and due dates for checked out items have been extended to July 13, 2020. Bookdrops will remain closed until further notice.
Dates and information subject to change. To stay up-to-date on the latest library news, visit https://www.sandiego.gov/public-library, follows us on
Facebook at https://www.facebook.com/universitycommunitylibrary/, or give us a call M-F, 9 AM to 5 PM; University Community Library on Governor Drive at 858-552-1655 or North University Library on Judicial at 858-581-9637.
---
For related posts, visit https://www.universitycitynews.org/category/library/