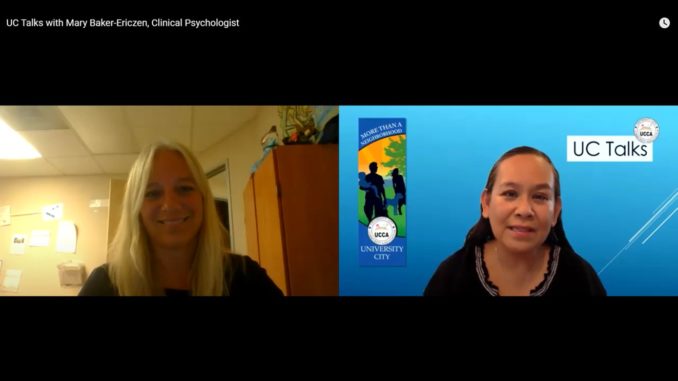 Mental health and mental illness are important topics, especially during the trauma of living during the COVID-19 pandemic. In this episode of UC Talks, Host Jemma Samala talks to Mary Baker-Ericzen, Clinical Psychologist and University City resident, about what is mental illness, what to look for, and when to get help. Mary shares tips on how to keep your mental health positive. She also provides additional resources for parents and teens. Links to podcast via YouTube and SoundCloud; and resources below.
Editor's note: Dr. Mary Baker-Ericzen is the director of Intricate Mind Institute http://intricatemindinstitute.com/, a community mental health clinic in San Diego which provides psychological services for individuals with learning differences and psychological health concerns.
---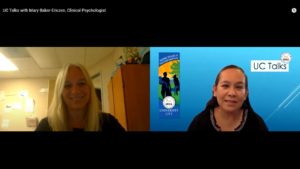 ---
UC Talks is a hyper-local podcast that features conversations, interviews, and news of University City. UC Talks also includes readings of the University City newsletter. It's managed by University City Community Association (UCCA) and made possible, in part, by a generous Community Enhancement Program grant from the County Board of Supervisors. Our podcast host is newsletter editor Jemma Samala.
No special software is needed to listen; just click on the link, adjust the volume on your device, and click the play button. 
To submit an idea for an upcoming UC Talks podcast, please use the 'contact us' link at https://www.universitycitynews.org/contact-us-or-volunteer-in-uc/