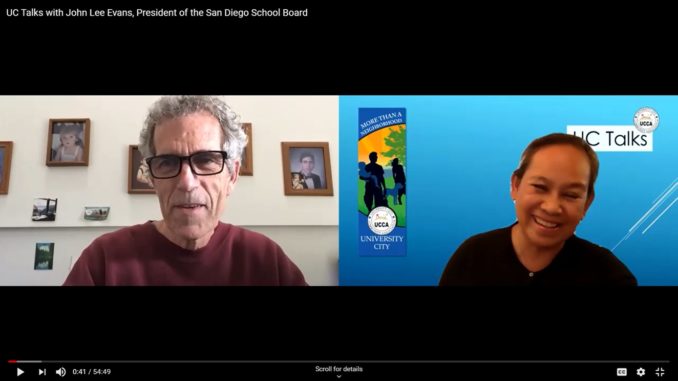 UC Talks – Podcasts featuring conversations, interviews, and news of University City, are now available on both YouTube and SoundCloud. It seems as though everyone is using Zoom and so is UC Talks! Podcast host Jemma Samala chats with local leaders and neighbors in University City to dig deeper into some of the issues and opportunities facing University City and the surrounding area. Recent podcasts recorded on Zoom and available on both YouTube at https://www.youtube.com/channel/UCufqxSNHCsaXQ0lc81e4jFQ  and SoundCloud at https://soundcloud.com/ucca-785209867
Chris Nielsen, president of the University Community Planning Group chats about the purpose and set up of the planning group. They also cover the process for the update of the University Community Plan, which was last updated in 1987. Current projects are also discussed, including the highly anticipated renovation of the Costa Verde center.
University City High School Seniors talk about what it's like experiencing their last semester while under stay-at-home orders. Centurion seniors Rose Grimm, Julianne Hom, and Cole Roof share their thoughts and plans post-UCHS.
Liana Alston, founder of UC Residents Against Racism! Liana grew up in University City. After the killing of George Floyd, as a black woman, she felt compelled to share a post on NextDoor entitled "From not-racist to anti-racist in 2020: some tools" which garnered lots of positive feedback. From there, she was encouraged to start a NextDoor group, which Liana called UC Residents Against Racism! Many UC residents have joined the group and been motivated to act. In this episode, Liana talks about growing up in University City, a predominantly white neighborhood, educating ourselves about the Black Lives Matter movement, and how as an individual, you can find sources to help take your feelings about social injustice to action.
John Lee Evans, San Diego School Board President talks about the reopening of our local schools, how that will look like, and the many challenges to be faced. Evans was also one of the key organizers behind the neighborhood's ImagineUC 2020 project – new aquatic center at Standley Park, pavilion, and jogging path. As well as improvements to the Spreckels Elementary and Standley Middle school campuses. And most important, find out what park he take his dogs.
Mary Baker-Ericzen, Clinical Psychologist and UC resident, talks about what is mental illness, what to look for, and when to get help. Plus tips on how to keep your mental health positive. Mental health and mental illness are important topics, especially during the trauma of living during the COVID-19 pandemic. Mary shares additional resources on: Parent's Guide to Teen Depression, and Crisis Services and Resources for Teens with Depression and/or Suicidality – which are available on the UCCA website, www.universitycitynews.org.
Randall Tonini, UC Celebration Chair and Lead Pastor Grace City Church talks about the hard decision to cancel the UC Celebration. But on a more positive note, he talks about the upcoming merge of two University City churches: Grace City Church (services held at University City High School) and First Baptist Church (located at east end of Governor Drive). Randall also discusses how local churches are helping parishioners keep the faith during the COVID-19 pandemic, and in running virtual services and meetings.
For a list of all available UC Talks podcasts, visit https://www.universitycitynews.org/category/uc-talks-podcast/