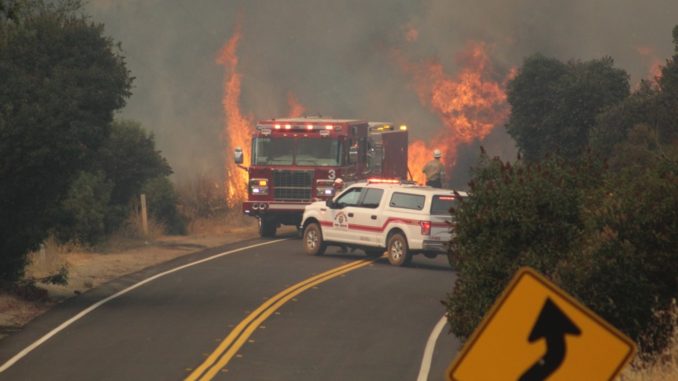 10Nuews update from Tuesday evening September 9, 2020: The flames had spread over an estimated 17,565 acres and destroyed at least 11 residences and 25 outbuildings Tuesday, the state agency reported. The fire is now 11% contained. https://www.10news.com/news/wildfires/valley-fire-evacuations-remain-in-place-as-fire-in-japatul-valley-burns-over-17-000-acres-090820
---
10News update from Monday evening: Valley Fire scorches more than 17,000 acres. Report at https://www.10news.com/news/local-news/valley-fire-scorches-thousands-of-acres-as-state-of-emergency-declared
---
10News is reporting Monday morning, September 7, 2020: The Valley Fire continued to burn overnight in East County as evacuations remain in place. So far, the blaze has scorched 10,258 acres and is 1% contained.
How does this compare with some of the largest fires in the last 20 years? We were wondering the same thing so we did a little research and found a 10News report dated July 2017 from Allison Horn. Based on her report, we've included a quick summary below.
2003 – Cedar Fire: 15 people killed, 280,278 acres burned, 2,820 buildings destroyed.
2007 – Witch Creek-Guejito and Harris Fires: 7 people killed, 288,430 acres burned, 1,650 buildings destroyed.
2014 – Cocos, Poinsettia, Bernardo Fires: 26,000 acres, 65 structures destroyed.
2016 – Border Fire: Two people killed, 7,609 acres burned, 18 structures destroyed.
For historical reference, please review the complete report by Allilson Horn from July 2017 on 10News at https://www.10news.com/news/largest-fires-in-san-diego-county-history
For current information at the #ValleyFire from 10News, visit https://www.10news.com/
For related posts from UCCA, visit https://www.universitycitynews.org/category/sdfd/